It is with great sadness we write to announce that
Gerry Hart
suddenly passed away in his sleep early this morning 19th January 2023.
It's been a huge shock for Kevin and Gerry's family.
Gerry has asked for friends to support Kevin as much as they can while he sorts out his future.
Gerry loved Kevin so very much and he appreciated his love, care, loyalty and devotion.
Gerry lived life to the full, a passion for his ponies, an outspoken character, an incredible sense of humour with an infectious laugh.
He was much loved and and he will be sadly missed by everyone.
Gerry started shetland-pony.com in 1999 – I'd just got my first PC in 1999, lying awake, the concept of a website that listed studs, promoted news, enhancing the reputation of the breed, a list of affiliated shows/schedules as provided by show secretaries, a results service, links to groups and associated sites, and a ponies for sale page. All laid out in an easy to access format. Over the years I have thought how I might improve it. I always believed it 'does what it says on the tin'. That's not to say it can't be improved. The whole public perception of the Shetland pony has markedly improved to equality with other breeds. You've been out there 'doing it' breeding some fabulous ponies, but it has been shetland-pony.com that has told the world.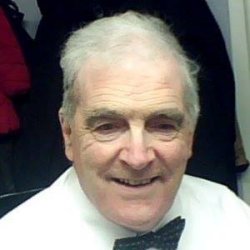 Ayrshire Shetland Pony group had their Youngstock show affiliated to the SPSBS & GEMS on 27th November 2022 at Ayr Livestock Market. The day ran well with even the sun shining for exhibitors on the day. Classes were supported by good quality stock and members classes proved very popular with winners receiving Shetland Pony confectionary from the chocolate box (Shetland) and an array of newly sponsored silverware. Our Young handlers classes had a selection of goodies from the Chocolate Box to Shetland pony pin/badge to class winners, ASPG Gold medal to Champion Young handler to keep and the Marshalls memories Salver. Our Champions all had sponsored sashes with a range of chocolate gifts to ASPG neck scarfs. The many classes were judged amiably by Mr R S Pitcairn, Kirkintilloch with Overall Supreme going to Lynda Cochrane's Gue Unst, a lightly campaigned 3yr old miniature colt being shown on only his 3rd outing. The very successful bay 3yr old standard colt Oldeworlde Vivaldi from Amy McConville added his Reserve Supreme title to his list of Championships for this year.  
All the Ayrshire Shetland pony group shows and events will be run within the Ayrshire area but there are no area restrictions for membership, anyone can join.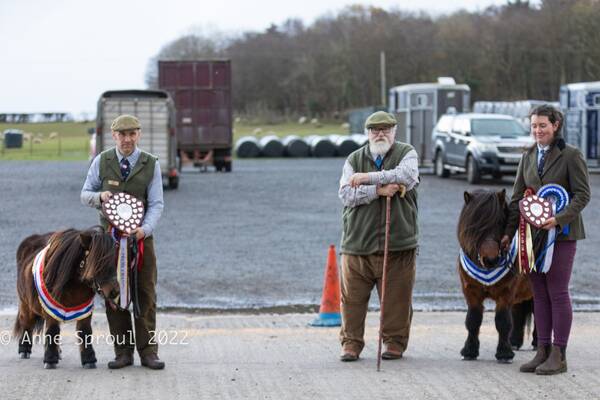 Champion Young Handler – IMOGEN ANDREWS – FAYREFIELD BOOGIE BEAR
Reserve Champion Young handler – CALLUM RICHARDSON – PHLAIR VALEGRO
Overall Members Champion – ARDANBEAG LAVENDER – GILLIAN MCINTOSH
Overall Members Reserve Champion – OLDEWORLDE VIVALDI – AMY MCCONVILLE 
Senior Miniature Champion ARDANBEAG LAVENDER – GILLIAN MCINTOSH
Senior Miniature Reserve Champion MILDAY DELILAH – ANDY THORNLEY
Miniature Youngstock Champion – GUE UNST – LYNDA COCHRANE
Miniature Youngstock Reserve Champion – ABBEYGREEN KELDA – LYNDA COCHRANE
Standard Youngstock Champion – OLDEWORLDE VIVALDI – AMY MCCONVILLE
Standard Youngstock Champion – GLANGASK NAPOLEON – GEMMA TAYLOR
Ayrshire Shetland pony group Trophy & Rosette for Best Foal ~ BALDINNIE ENCANTO – AMY MCCONVILLE~
Abbeygreen Shetlands Salver & Rosette for Best yearling ~ ROBIN'S BRAE COMMANDER – GILLIAN MCINTOSH~
Loghshore Trophy for Best 2yr old ~ ABBEYGREEN KELDA – LYNDA COCHRANE~
Loghshore Trophy for Best 3yr old ~ OLDEWORLDE VIVALDI – AMY MCCONVILLE~
Reserve Supreme Youngstock Champion ~OLDEWORLDE VIVALDI – AMY MCCONVILLE~
Supreme Youngstock Champion ~GUE UNST – LYNDA COCHRANE~
Roger Jones of the Buxted Stud has passed away. A celebration of Rogers life will be held on the 10th February at 11am at Eastbourne Crematorium and afterwards at Langley Sport Club. All family and friends welcome. Flowers or donations to The British Heart Foundation or SPSBS.
Happy New Year!
Thank you to everyone that donated to our Xmas Card Appeal 2022 for Alzheimer's . A total of £55 was raised.  Anyone wishing to view the cards or donate can do so here until the end of January.
As a special promotion for January 2023, all adverts placed on our For Sale Page will be at a reduced rate, to advertise click here.
Please submit your Show details for inclusion in our 2023 Show Dates Calendar 
All of last years 'News' stays online for future reference, you will find it in the 'Archived News' section on the menu.