Send all your Shetland Pony News to info@shetland-pony.com or share on our Facebook page for publication on this site.
🎄 shetland-pony.com 2020 Xmas Card Appeal 🎄
As last year all Donations will be split between Macmillan Cancer Support & Alzheimer's Society.
INSTEAD OF SPENDING LOADS ON CHRISTMAS CARD POSTAGE, E-MAIL A COPY OF A CHRISTMAS IMAGE AND GREETINGS TO YOUR PONY/HORSEY, FAMILY OR FRIENDS AND DONATE THE SAVED POSTAGE TO OUR APPEAL. PLEASE JOIN IN, YOU DON'T HAVE TO BE INVOLVED WITH SHETLAND PONIES TO BE INCLUDED. SEND A PICTURE AND IT WILL BE PUBLISHED ON A DEDICATED WEB PAGE, WHICH WILL STAY LIVE UNTIL THE END OF JANUARY 2021.
For more Details and to view the Appeal Page Click Here…
Pictured is Sylvandene Charisma with the rosettes she won at the Midlands Online Foal of the Year Show – Best Filly and Overall Champion.
"I am very grateful to the organisers for giving us something at least to look forward to with our foals this year" says Belinda Jacques
The Directors of Thimbleby & Shorland regret to announce that they will no longer be holding sales of Shetland Ponies at Reading Auction Centre.  This is an inevitable consequence of the Coronavirus pandemic, which among other things meant that a sale could not be held in 2020.  The effect of the pandemic has been to change our business significantly, and due to these changes we will not be able to service a sale of Ponies here in Reading in the future.
We would like to thank all those Sellers and Buyers who have supported the sales, over in excess of 50 years, and wish you all good fortune with your enterprises in the future.  It has been a pleasure doing business with you.
Champion Shetland Pony at the McCartneys Worcester SPSBS Sale was a Standard Brood Mare Warrackston Tigerlilly who realised 1850gns.
Reserve show champion was Mr P. Atkinson's Addingham Ike, a yearling colt who sold for 900gns.
Judge today was Mrs Jill Jones.
Top price of the day was Mr Cyril Pearse's Mardlebrook Volcano, a piebald stallion, 2300gns.
Worcester Sale Prices 2020
Please Note no responsibility can be held for the accuracy of these prices
2000
380 N/S
780
820
650
680
700
950
1800
N/F
(Sold with lot 50)
650
850
1550
550
1100
1750
480
450
1000
420
320
880
480
400
600
550
280
280
720
450
620
320
380
280
350
N/F
350
280
N/F
N/F
1600
520
900
850
450
1300
N/F
N/F
(with lot 11) 1650
720
2100
1400
1850
N/F
950
?
?
?
?
?
?
300 N/S
550
900
N/F
N/F
N/F
800
1550
N/F
1150
1450
2300
N/F
Lerwick Shetland Pony Sale 2020
The 61st annual Lerwick Pony Sale was held on Friday 2nd October at the Shetland Rural Centre. Unfortunately due to the restrictions imposed by the ongoing pandemic the annual Lerwick Pony Sale Show was unable to be held. However, the Pony Breeders of Shetland Association (PBSA) felt it was imperative for the sale to go ahead. With thanks to Shetland Livestock Marketing Group (SLMG) and Aberdeen and Northern Marts (ANM) this was made possible, albeit with a very different format to comply with social distancing rules and regulations. Entry numbers were down on previous years, with 41 ponies forward, but although numbers were lacking quality was not. An array of different sizes and colours were forward to suit a range of buyers.
Yet again, especially due to the pandemic travel restrictions, the online bidding facility proved invaluable with 33 of the 41 ponies sold, selling through the facility. All 41 ponies forward were sold, with many travelling far and wide The PBSA must express thanks to the vendors who all provided numerous photographs and videos of the lots in advance of the sale, allowing for ponies and the sale as a whole to be promoted greatly in the lead up to the day.
The top price was paid for Bergli Lanca, a 6 year old skewbald miniature mare belonging to the Bergli Stud now based in Norway, achieving 3,100 guineas. The highest price colt foal was the Black standard, Filska Ignite sold by the Filska Stud, Eshaness for 680 guineas and the highest priced filly foal was Musselbrough Whisper presented for sale by Janice & Marcus Priest, Unst selling for 1,400 guineas.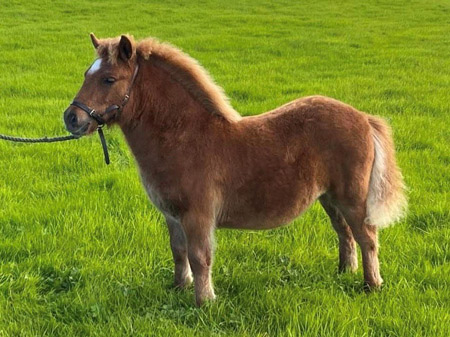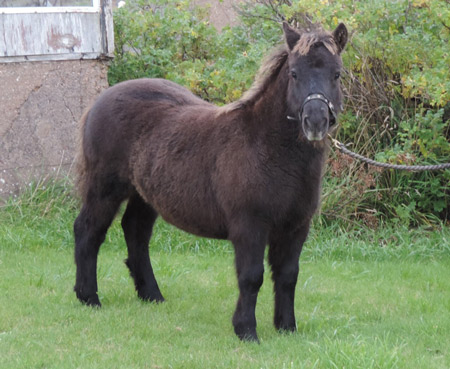 Top Prices
3100gns – Bergli Lanca – Skewbald Miniature Mare – Bergli Stud, Norway
2300gns – Merkisayre Jannie – Chestnut Standard Mare – Merkisayre Stud, Burra
1700gns – Merkisayre Joyful – Black Standard 2yr Filly – Merkisayre Stud, Burra
1400gns – Musselbrough Whisper – Chestnut Standard Filly Foal – J&M Priest, Unst
1300gns – Stepley Candice – Chestnut Standard Mare – I Burgess, Virkie
1250gns – Bergli Searose – Liver Chestnut Standard Mare – Merkisayre Stud, Burra
1000gns – Hollydell Pheodora – Black Standard Filly Foal – Hollydell Stud, Nesting
860gns – Merkisayre Donna – Black Standard Mare – Merkisayre Stud, Burra
800gns – Moorens Misty – Black Miniature Filly Foal – D Johnson, Unst
800gns – Stackerhvi Donna – Skewbald Miniature 3yr filly – A J Williamson, Whalsay
740gns – Ockran Lisa – Black Standard 2yr filly – R Ramsay, Collafirth
740gns – Scatness Bounty – Black Standard Mare – G Douglas, Virkie
Average Prices 2019 – 2020
Filly Foals – 475gns – 1066gns
Colt Foals – 147gns – 334gns
Fillies – 288gns – 847gns
Colts – 30gns – 170gns
Stallions – 225gns – 300gns
Mares – 567gns – 1221gns
Overall 375gns – 624gns
The overall average was greatly up on last year at 624 guineas across the whole sale.
Huge thanks to auctioneer Rod MacKenzie and Alan Donald of ANM for doing a fantastic job for all concerned. Also a huge thanks to the SLMG yard staff for the smooth running of the sale and also to Northlink Ferries for their continued support and sponsorship.
Aberdeen Sale Prices 2020
Please Note no responsibility can be held for the accuracy of these prices
1150
615
320
480
380
300
280
100
180
300
520 N/S
550 N/S
150
180
750
120
220
720
280
350
550
350
900
480
Please Note no responsibility can be held for the accuracy of these prices
800
560
560
760
80
100
800
400
600
740
180
100
300
320
1400
480
260
140
680
600
740
1000
640
240
860
2300
1700
300
1250
N/F
130
300
180
200
240
220
200
380
260
240
1600 N/S
3100
Worcester Mart Shetland Pony Sale Catalogue link available here
17 Filly Foals, 24 Colt Foals, 8 Fillies (1-3 year old)
11 Mares, 7 Entire Males, 8 Licensed Stallions
At Worcester Livestock Market
On Monday 19th Ocotber
Details Tel: 01905 769770

Liscombepark Za Za 'horsing around' in the nice weather!
15 August 2020 - Downs Shetland Pony Group Show Results
We managed to hold a very successful Summer show despite having to abide by Covid restrictions .
To enable track and trace we could not accept entries on the day whereas normally we get a lot of extra entries on show day .
Also the weather had been stifling prior to the show but on the day there was a cool breeze which was lovely !
We used our Sponsors from the Spring show in April which unfortunately had to be cancelled owing to Covid .
We all had a lovely day and despite the restrictions really managed to obtain a sense of normality
The Principal Results were as follows
STANDARDS
JUNIOR CHAMPION SALLYE BUCKLEY HIGH FELICITY
RESERVE S GREENE /B JACQUES SYLVANDENE CHARISMA
SENIOR CH HART /WHITMEE CRANFORD FIDDLEDYDEE
RESERVE S GREENE BARNS ST GEORGE
RING CHAMPION CRANFORD FIDDLEDYDEE
RESERVE BARNS ST GEORGE
MINIATURE
JUNIOR CHAMPION EARL & COUNTESS DE LA WARR FAIRY FOOTGUARD
RESERVE S&M BOURNER PADBROOKE PROMISE ME
SENIOR CH EARL &COUMYESS DE LA WARR FAIRY CONSTANCE
RESERVE D ELPHICK KINGSACRE MR CHIEF
RING CHAMPION FAIRY CONSTANCE
RESERVE KINGSACRE MR CHIEF
RIDDEN CHAMPION – TABITHA HUGHES CARRICKFERGUS ADMIRAL
RESERVE – FLORENCE TAYLOR CRANFORD HECTOR
GELDING CHAMPION – B JACQUES BUXTED PICASSO
RESERVE – FLORENCE TAYLOR CRANFORD HECTOR
FOAL CHAMPION – SYLVANDENE CHARISMA S GREENE
RESERVE – M BOURNER PADBROOKE PROMISE ME
SUPREME CHAMPION – CARRICKFERGUS ADMIRAL
RESERVE SUPREME – FAIRY CONSTANCE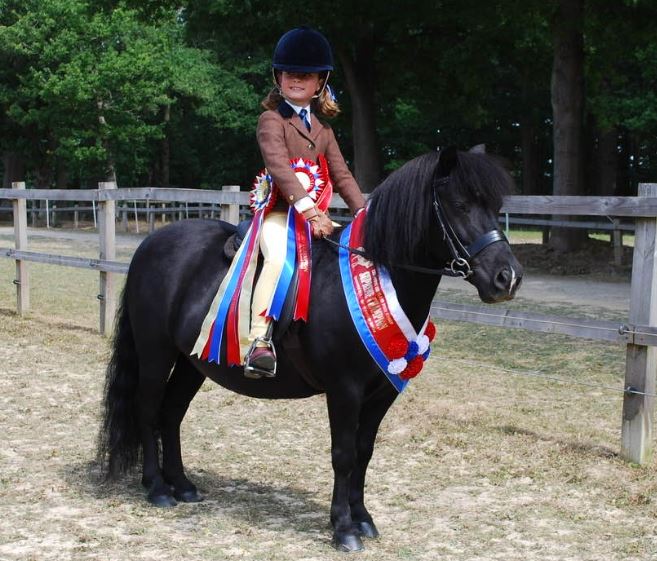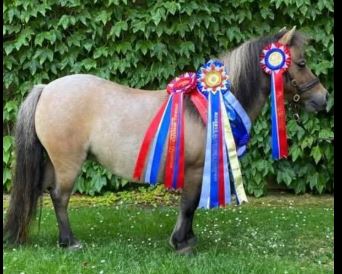 Regimental mascot, Cpl Cruachan IV (Clothie Nyggle) celebrated his 11th birthday this week! It has become customary for the Officer Commanding Balaklava Company to give him a light refreshment to mark the occasion!
This fantastic tradition is usually completed at #Balmoral Castle following the arrival of Her Majesty The Queen, as under normal circumstances Cpl Cruachan would be on Royal Guard with #SCOTS at this time of year but this week he is at home in Redford.
Cpl Cruachan IV is a great source of morale for our #WeAreInfantry Soldiers. Whether they are proudly marching through a Scottish town, deploying on Operations or on Exercise his mischievous character brings a smile to the Regimental family.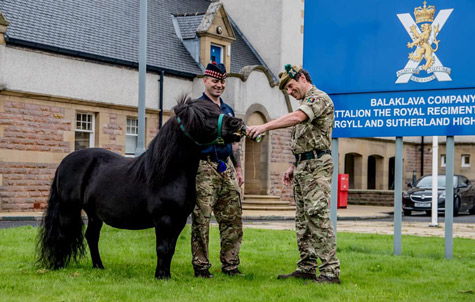 Sylvandene Charisma owned by Belinda Jacques & Sian Greene taking Reserve Standard Junior Champion at the Downs Shetland Pony Group Summer Show at the weekend.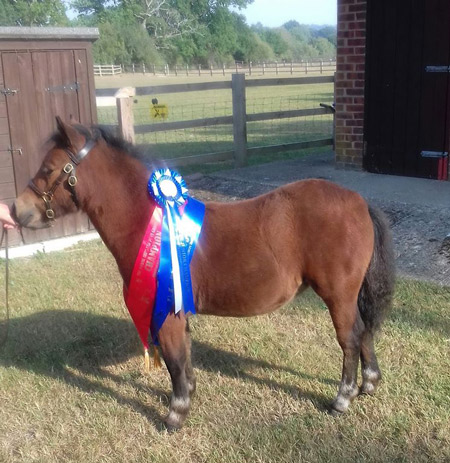 Liz Gray of Earlswood Shetlands wishes to express her sincere thanks to everyone for the kindness and sympathy which has been offered to her in her bereavement.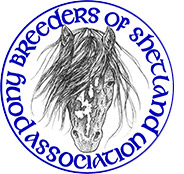 LERWICK PONY SALE WILL NOW TAKE PLACE ON FRIDAY 2nd OCTOBER 2020 AT 11am
The sale will now star
t at the later time of 11am, to allow ponies to arrive at the marts early on the Friday morning rather than the night before. There will be no show of ponies prior to the sale. PBSA committee members will be there to check microchips and passports, receive ponies and deal with sorting the ponies after the sale. Vendors are requested to leave ponies in a pen outside the mart, with passports in an envelope to be handed over to the PBSA Committee members in attendance.
The sale will be administered from Thainstone, with both Alan Donald and Auctioneer Rod Mackenzie being based there, rather than in Lerwick. As there will be no live feed of the sale as in previous years vendors must provide plenty of pictures and videos of the ponies for sale.
There will be no bidding in person at the mart. Bidding will be done via the online system or there will be a facility to place bids prior to the sale starting. There will be a big screen in the Mart foyer to display the sale and we will also set up a bidding point there so that locals can bid through a member of staff into the Auction.
Payment for purchases can be done by contacting the Aberdeen and Northern Mart office, where arrangements can be made for ponies to be shipped to Aberdeen as normal.
We understand that this is in no way the ideal situation but is unavoidable given the current situation, however the PBSA were determined that a Lerwick Pony Sale would go ahead so we would appreciate as mush support as possible.
"On behalf of ANM and SLMG we will do our utmost to make a success of the Lerwick Shetland Pony Sale given the restrictions we have to adhere to. We recognise the hard work that the PBSA committee do in 'normal' years to make this sale successful. We have been selling ponies 'on line' in Lerwick for many years now and the method, thankfully, is tried and tested especially now that we have to rely solely on this technology. We look forward to selling your ponies once again this year albeit by a different method!"
Rod Mackenzie, Auctioneer
Anyone in the Midlands itching to get out showing?  
Warren Riding Club
, Hucknall, Notts. have kindly put a Shetland only class on, plus there are plenty of other classes to enter, championships and supreme.  Entries are taken from 6pm on Thursday 6th August. Limited parking due to social distancing, so get your entries in early.
Rider – Name, address, telephone number & age (if under 16) 
Horse – Name, height & colour 
Sale of Registered Shetland Ponies
Under the auspices of the Shetland Pony Stud-Book Society
At Worcester Livestock Market,
The Heath Meadow, Nunnery Way, Worcester, Worcestershire, WR4 0SQ
On Monday 19th October
Details Tel: 01905 769770
Entry Form Here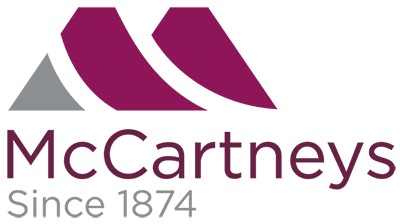 ⛔ Oct 2020 Thimbleby & Shorland 52nd Annual Reading Show & Sale of Registered Shetland Ponies Wednesday 21st October 2020 at 9:30 CANCELLED⛔
Due to Covid 19 it has been confirmed today that the 2020 sale of registered shetland ponies will unfortunately not take place.
It is with deep regret we report the sudden and unexpected death of Mr David Gray of Earlswood Shetlands on Sunday 26th of July 2020.
 I have been asked 'How to share news from Facebook to shetland-pony.com, is there an easy way?' 
So here's a quick tutorial with some pictures for help;
If you post is on a 'Business Page' change to your profile via the arrow at the bottom left off the post – Pic 1
Click the 'Share' button then select 'Send as a Message' – Pic 2
In the box type '@shetlandponywebsite' & click send next to shetland-pony.com – Pic 3
Here is two newspaper clippings from 'Prairie Farmer ' which was a weekly newspaper published in Chicago, Illinois in 1911. 
The newspaper ran a competition where boys and girls could win a Shetland Pony for free!
Pictured here are some of the winners and ponies….
Nearly 4 weeks ago we lost our lovely Stepley Duana suddenly leaving us with her 4 week old filly foal Duchess with no mum. Duchess had had a fantastic start from Duana and was eating hard food and would drink from a bucket but not from a bottle. Thankfully a local breeder had some foal milk and saved the day and she has gone from strength to strength. Last week we turned her out and touchwood all going well and she comes into the pen for her feed every morning.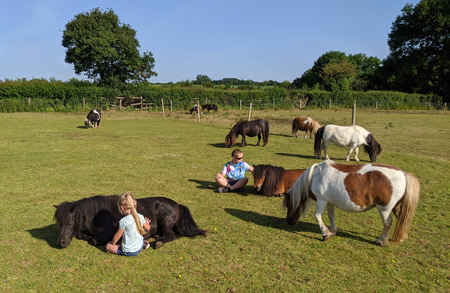 The Animal Health Trust (AHT) will close after months of trying to source enough funding for a viable future.
The leading veterinary and scientific research charity announced the sad news.
"It is with deep regret that today we have announced to our colleagues that the Animal Health Trust's board of trustees have concluded that the trust needs to close and next week will formally begin the process to wind up the AHT," said a statement from the charity.
"The decision to cease operations has been reached after several months of trying to secure funding. Although substantial progress was made, the charity has been unable to secure the significant funds it needs to have a long-term viable future."
The AHT currently undertake the SPSBS DNA testing.
Update 13/07/20 
All equine data for all equine societies has automatically been transferred to Weatherbys by the AHT, so that DNA testing for all equines will continue exactly as before. The SPS-BS charge of £60 will remain the same as will the procedure of sending hair samples to York Place by SPS-BS Members.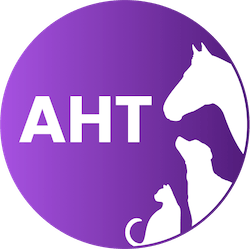 HORSE OF THE YEAR SHOW 2020 OFFICIAL ANNOUNCEMENT
It is with great regret, that we must announce the cancellation of Horse of the Year Show 2020 due to public health concerns linked to the coronavirus pandemic. The 72nd edition of the event will now take place from Wednesday 6th – Sunday 10th October 2021, at the NEC Birmingham.
At the forefront of our minds has been, and will remain to be, the health and safety of all of those who come together to make Horse of the Year Show happen – the visitors, competitors, staff, officials, volunteers, partners, trade exhibitors and contractors – as well as our wider responsibility to support the efforts to tackle this challenge to our everyday lives.
Members of the public who have purchased tickets for HOYS 2020 will be offered the option to retain their tickets for the same day and seat for the 2021 event or alternatively they can claim a refund. Over the next few weeks, we will be working with our ticketing agent, The Ticket Factory, to communicate directly with all ticket holders, in addition to contacting trade exhibitors and sponsors.
We are sure that cancelling this year's Horse of the Year Show will be as great a disappointment for you, our loyal followers, as it is for us. It has been your passion for HOYS that has made our event what it is today, and it is undeniable that without the support of the equestrian community HOYS would not continue to happen. We'd like to thank all our valued partners, customers and stakeholders for their continued support during these challenging times.
Our thoughts remain with all those that have been, and continue to be, affected by this pandemic.
Horse of the Year Show will return in 2021. We look forward to welcoming you back for what promises to be a fantastic showcase of equestrian competition and entertainment.
The S.P.S-B.S can confirm that, subject to Covid-19 regulations, the Shetland Pony sale will go ahead at Worcester Market on Monday 19th October 2020. Further details will follow.

This is Tawna (not Twana!) Patrick who was reported earlier in the year as a regular visitor, and Guiness-drinker at his local pub in South Devon. The lock-down has curbed his drinking habits, but he has been very busy doing useful work and raising the spirits of isolated people. He is the first Shetland to be selected as a 'Hero Horse' for the War Horse Memorial and Purple Poppy Fund.
President's Report
As you will have read on the SPSBS Website we are sadly unable to hold a Council Meeting in July, Government restrictions on travel and on social distancing prevent us. It is very disappointing and I felt that you would all like to be kept in touch with what news we have from 22 York Place so I decided to write a sort of Presidents Report but actually more of a newsletter.
As you know Claire and Victoria are now back from furlough, we are lucky in that the size of the office enables us to keep to the required social distancing rules, and Claire and Victoria can work together without being physically close. Kate and Pauline are still on furlough, and until we have more information regarding workplace safety measures they will continue to stay at home. Claire reports that the Office have very few telephone calls, and the post is largely requests for foal registration forms which is encouraging as I hope that many of you are able to enjoy seeing new life at this difficult time. The office has got lots of microchips which can be ordered by telephone and vets should be able to implant them but obviously that does depend on your own particular vet.
Shetland Pony Trading still continues via the Trading Website page and Victoria can take orders as usual.
Again, you will all know that sadly the 2020 Breed Show has had to be cancelled, as have most, or all, other shows including the International Show with the ISPC Meeting. This will now take place in 2021 hosted by France and I hope will be a real humdinger of a show to make up for the loss of this year. Many of us were looking forward to going and I was looking forward to our annual meeting with our Daughter Stud Book Societies.
I have spoken to a representative of OSCR (the Scottish Charities Board) who have been very helpful and explained that due to Covid 19 we are not obliged to have the three meetings required in the Constitution nor are we compelled to hold an AGM, we have to submit our audited accounts which our accountants Johnston Carmichael are in the middle of preparing and which OSCR are happy to accept with an email signature from me. This is a 'one off' dispensation from OSCR and the English Charities Commission's Covid 19 guidelines echo the same sentiments for Charities based in England and Wales.
I am still very much hoping that our Society sales will be able to take place in the Autumn and that we might be able to hold an AGM at the Worcester Sale on 19th October, but, again, this must depend on what Government restrictions are or are not in place, as with everyone else in the UK we have to abide by the rules set by the Prime Minister and no one knows where the country will be in October, we can only hope things are better.
New Council Members for 2021 will be announced after June 1st as there is a vote for the three English places, English members will get their voting papers this week, please vote and return them to York Place by June 1st. Scotland had two Council applications for two places and so will not have a vote this year.
It is very hard for everyone and all of you must be facing problems which you never thought would happen, probably some of you have friends or relations who have had or who have got the virus and you must be worried sick, isolation is causing difficulties for so many families, while we can all see the reasons for it that does not make it any easier. Some of you will have not seen much loved children or grandchildren for such a long time and that, again, is heart breaking. Some of you will be worried about jobs, companies going under, hardships that we have never seen before and I can only remind you all of The Queen's Message that 'We Will Succeed and Better Days Will Come'.
With my very best wishes to you all
Anne (Countess De La Warr, President SPSBS)
'Online Showing' on Social Media is one method being used to replace this years cancelled shows, Belinda Jacques is currently waiting the results for her 16yr old Stallion Barns Saint George.
Anybody else had success competing in 'online showing'?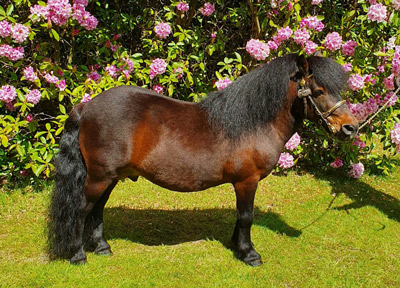 Sally Ann Dale has a riding school and livery yard near Mayfield. With the business being under 'lock down', far too many horses and ponies to be exercised by on person, so step in Lucie, Sally's 6 year old daughter. Lucie wanted to raise some money for NHS Charities. Lucie rode 10 ponies one after the other for 20 minutes each and hoped for some donations via www.justgiving.com/fundraising/luciedale setting a target of £500. She only did it on Saturday and the total to date is £1025. Please take a look and any donation would be appreciated.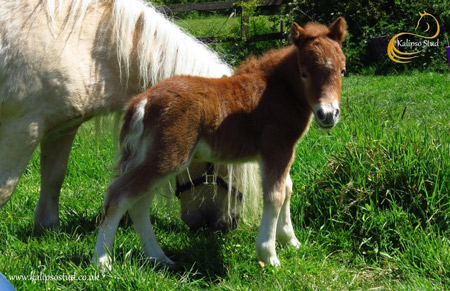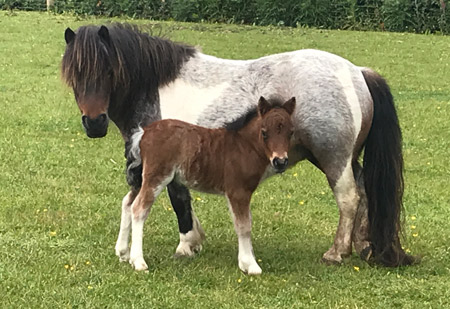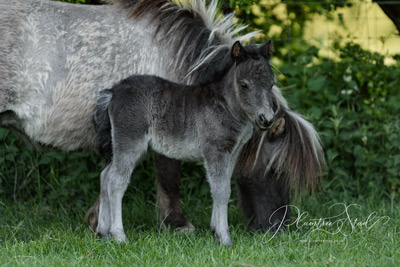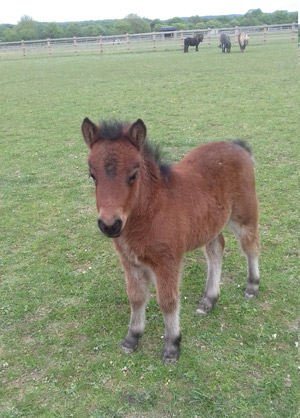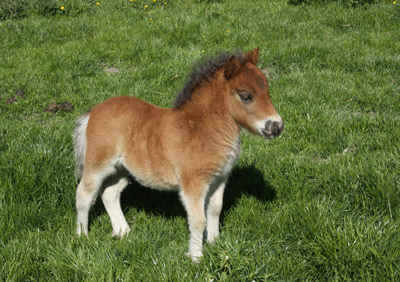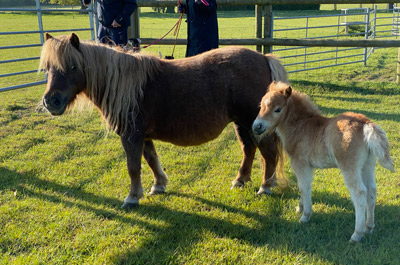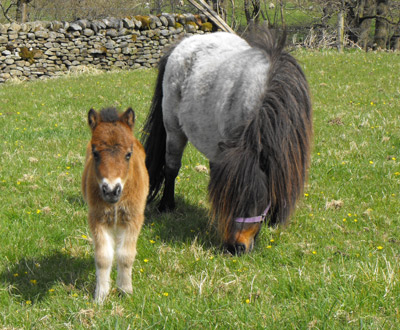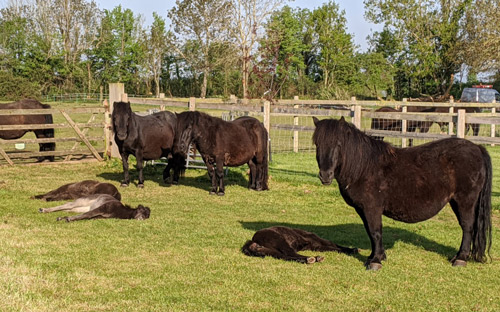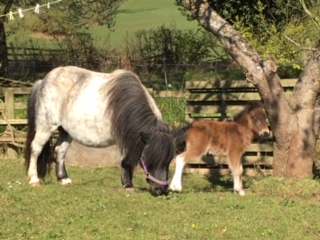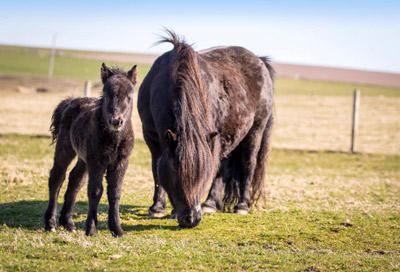 It is with deep regret that, due to the current COVID-19 restrictions, the SPS-BS announce the cancellation of the 2020 Breed Show, which was due to be held at Chard Equestrian Centre on Sunday 30th August. 
It will now be rescheduled to the 29th of August 2021.

Good News
She was found this morning by some riders about 5 miles away and followed them back to their stables.
She was very frightened and had sweated up a lot and had a couple of scrapes but otherwise is fine. We are unsure if she escaped or was dumped but at least she is safely back home. 
Stolen from a field near Ilminster, Somerset.
Miniature Shetland palomino yearling filly. Hillash Fairy, microchip number 977200009476891. The filly was in a field with four old ponies, she was there in the morning but gone early evening. Two days before three men were noticed with a white bmw and a white truck in a pullin nearby, unfortunately I didn't get the number plate. We do have a travellers camp nearby. If anyone is offered a lovely little palomino filly or notice one being advertised please let me know. 
Mrs Pat Gray, Hillashponies.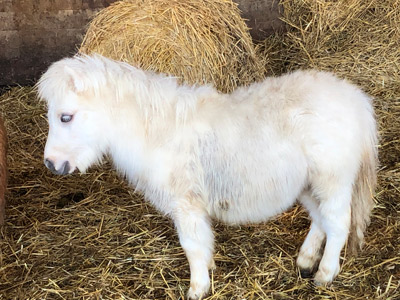 A mini mares has foaled and the foal has died if anyone looking for a surrogate mare please contact Lisa
07870356905
Located Wem Shrewsbury Shropshire
In light of the Covid 19 epidemic in France and throughout the world, it is with great regret that we must inform you of the cancellation of the International Shetland Pony Show. This event has been eagerly awaited by many Shetland pony enthusiasts and our team in France have been working hard behind the scenes in preparation for many months. In view of the huge scale of this epidemic and uncertainty that it brings for the months ahead of us, we believe that it is the correct decision to make.
All of the input and energy has not been in vain, as we intent to rescheduled the show in 2021 under the same conditions, at the same venue in Saint Lo, Normandy. We hope that you understand our decision, and that you and your families get through this period of crisis in your respective countries safely and in good health. See you in 2021 for a new International Shetland Pony Show.
Olivier Blanchet
Shetland de France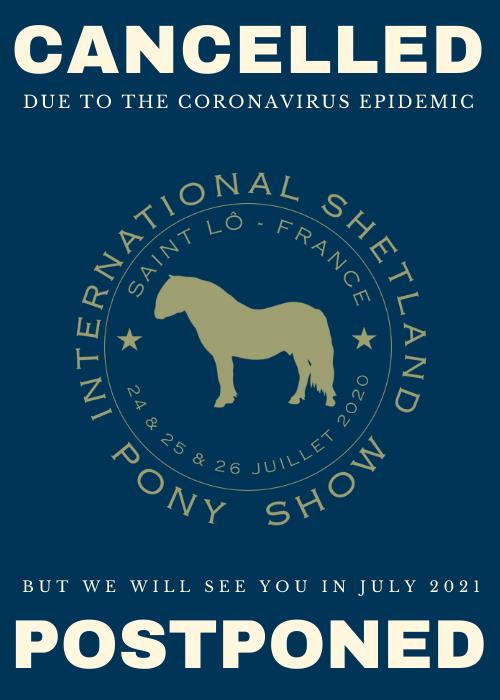 Coronavirus (COVID-19): advice for people with animals
Advice for pet owners and livestock keepers on maintaining the welfare of their animals during the coronavirus (COVID-19) pandemic.
Horses, livestock and other animals
Advice if you have symptoms of coronavirus and must remain at home for 7 days, or 14 as a household
If you have a horse in livery, you must not visit them whilst you are self-isolating. You should contact your yard manager or vet to make suitable welfare arrangements.
If you have livestock such as cattle, sheep, goats, pigs, poultry, or any other types of livestock you should arrange for someone else who is not self-isolating to care for your animals.
Where this is not possible you should ensure the basic needs of your animals are met. You must make sure you wash your hands before and after handling your animals and ensure you remain 2 metres away from other people.
If you are too unwell to care for your animals and there is no one to help, you should call your local authority.
Advice if you do not have symptoms of coronavirus
You may leave your house to exercise once a day and you should combine this with leaving your house to provide care for your horse or livestock.
It is essential that you minimise the time spent outside of the home and remain 2 metres away from others. You should remember to wash your hands before and after contact with any animals.
If your horse needs urgent attention from a farrier
If your horse requires urgent attention from a farrier, you should phone the farrier to arrange the best approach to meet your horses' needs. You and the farrier must ensure that you keep 2 metres apart and wash your hands before and after contact with the horse.
How a 12-year-old became a Shetland pony champion,
What Shetland pony champion Zak, 12, thought about retiring after winning almost every event.
And from the Shetland Film Archive, the Jim a' Berry Collection,
1970s era 16mm colour footage of ponies, horses and foals on the Berry croft, Scalloway.
Filmed by James Smith MBE (aka Jim a Berry).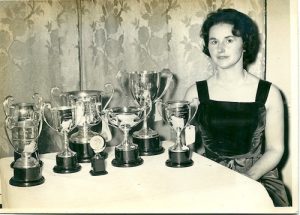 Dear friends of SSPG
As a group, we put the health and wellbeing of our competitors and our team as a top priority. We have been closely monitoring the Coronavirus (COVID-19) situation as it unfolds and are following the guidance issued by the government and health authorities to help keep everyone as safe as possible. It is with much regret, but probably little surprise, that we can confirm the cancellation of The Southern Shetland Pony Group show on the 26th of April. We are continuing to make plans for our show on September 6th, however we will of course continue to monitor the situation and make decisions accordingly. Our thoughts go out to anyone who has been personally affected, and we hope that everyone stays safe and well.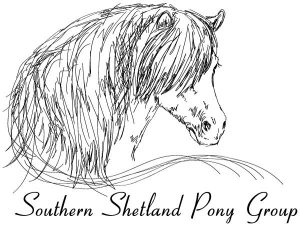 Show Cancellation / Postponements
South West Shetland Pony Group Show – 22nd March – Cancelled
Serrang Equestrian Inhand Show – 5th April – Postponed to later in year
Downs Shetland Pony Group Spring Show – 5th April – Cancelled
Southern Shetland Pony Group Show – 26th April – Cancelled
North Somerset Show – 3rd May – Cancelled
Scottish Friends Open Show – 3rd May – Cancelled
Nottinghamshire County Show – 9th / 10th May – Cancelled
Devon County Show – 21st/23rd May – Postponed until 28th/30th August
Fife Show – 23rd May – Cancelled
Heathfield Show – 23rd May – Cancelled
Herefordshire County Show – 23rd / 24th – Cancelled
Surrey County Show – 25th May – Cancelled
Great Harwood Show – 25th May – Cancelled
Suffolk Show 27th / 28th May – Cancelled
Staffordshire County Show – 27th – 28th – Cancelled
Royal Bath & West Show – 28th/30th May – Postponed until 31st July/2nd August
Cothi Bridge Show – 30th May – Cancelled
Central Scotland Shetland Pony Group Spring Show – 30th May – Cancelled
Royal Cornwall Show – 4th/6th June – Postponed until 10th/12th September
West Fife Show – 6th June – Cancelled
Midlands County Show – 6th / 7th June – Postponed until 10th / 11th August
South of England – 11th / 13th June – Cancelled
Caerwys Agricultural Show – 12th June – Cancelled
Royal Three Counties -12th /14th June – Cancelled
Cumberland Show – 13th June – Cancelled
Royal Cheshire Show – 16th / 17th June – Cancelled
Royal Highland Show – 18th/21st June – Cancelled
Derbyshire County Show – 28th June – Cancelled
Royal Norfolk – 1st / 2nd July – Cancelled
Royal Lancashire Show – 3rd / 5th July – Cancelled
Great Yorkshire Show – 14th / 16th July – Cancelled
Royal Welsh Show – 20th / 23rd July – Cancelled
Brightwells Auctioneers wish to announce that due to market forces and with immediate effect, that they will no longer be conducting their equine sales. The curtailment of this aspect of their business will mean that the WPCS and Standardbred (STAGBI) sales held at Builth Wells, the Sport Horse Sales at Addington, the Shetland Pony Stud Book Society and Horse & Pony sales, held at Hereford and all other equine sales will no longer be conducted by Brightwells. Whilst making this announcement, Brightwells would like to say a huge thank you to all our loyal customers who have supported these events previously. Whilst making this announcement it is stressed that all other aspects of Brightwells business remain the same and will continue as normal.
2020 Colt foals – full brothers, but not twins…
'How can that be' I hear you ask…
Dams are Wotknotts Mindy, 13yrs and Wotknotts Matilda, 5yrs. My lovely cream/chestnut dun mares are full sisters –  out of Shamarette Millicent by Wotknotts Jeremy Fisher. 
Both colt foals are by Kerswell Bandit. 
The cream skewbald is Wotknotts Marco out of Matilda and the chestnut skewbald is Wotknotts Minstral out of Mindy. So on paper their pedigrees are full brothers. 
"Not the best year to have had early foals… it's been a struggle but they are doing OK… "says Trudy
National Stallion Show 2020
Standard Champion and Overall Supreme Shetland was Hawkdale Dixie owned by Donna Lochtie.
Reserve Standard Champion was Eynhallow Dutch Prince owned by Brenda Laing.
Miniature Shetland Champion & Reserve Overall Shetland Champion was Halstock Cams Warrior, owned by Hazel Clarke.
Reserve Miniature Champion & Junior Miniature Champion was Alichbrae Bambi owned by Lynda Cochrane.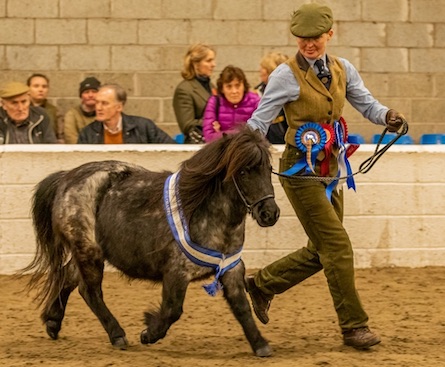 We always felt Tawna Patrick had a bit of star quality, but my goodness – isn't he becoming a celebrity in the village of Cockington – a regular at the pub, the café, the craft shops, even photo-bombing a wedding! Take a look at the video by Devon Live. 
As breeders, it is so heart-warming to see one of our ponies leading such an interesting life, with a great future ahead in a caring, knowledgeable home.
The Royal Northern Spring Show held at the Thainstone Mart.
Yearling Filly Milday India Jane, shown by Rachel Beattie, was 1st in the Miniature Yearling Class, took Overall Miniature Champion, Best Coloured, and then Overall Supreme Champion of the show.
Standard Champion and Best Female was 6yr old Mare Lynmore Isla shown by Christine Forbes.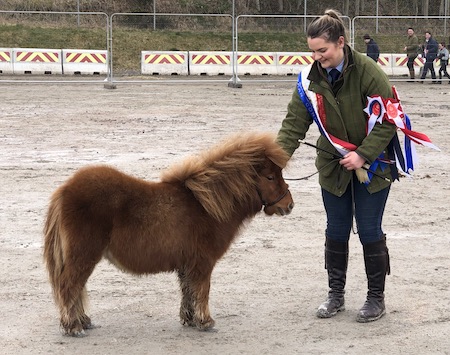 Joseph White [Huckerby Stud] aged 84, passed away after a very short illness on Saturday 22nd February at The Conquest Hospital Hastings.
Joe and his wife Pauline came to Shetland ponies when they retired from business. They started by buying a few geldings from me to keep the grass down at the lovely house Joe had built for their retirement. The bug bit, and it wasn't long before they bought some mares, sold the new house and bought somewhere with more land to accommodate their herd. Joe often told me how pleased they were that they had ponies, it saved them from what would inevitably be boredom from 'going on cruises'! His wife, Pauline, though inexperienced with ponies, is very good with animals. She was a sponge for information and knowledge and 'got it', pretty quickly. They bred some very nice ponies having acquired some from Jane Dennis and Jill Jones to go with ours. They stopped breeding and showing 7-8 years ago, and to this day have kept all their 'old ladies', 'going up the fields' twice daily, to check them and give them titbits, Joe's pleasure. Joe was a fisherman for most of his life, owning boats off Hastings beach. Latterly he had retail TV shops. An ex semi pro footballer, a handsome man with his pretty wife Pauline, they made a great couple. Pauline, the thoughts of your friends in the Shetland world are with you and your family at this sad time.      Obituary sent in by Gerry Hart.
For those Studs with a website made and hosted by shetland-pony.com, we have a new template / design. Please view the studs listed to see the template in action.
This new template will give a better result in search engine results eg Google / Bing and also displays your images alot clearer. These pages can be customised to colours of your choice and your social media links added.
If you wish your stud to be transferred over to the new template or you would like a website made in this format please get in touch.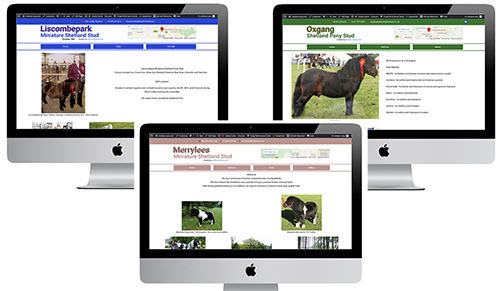 York Auction Centre
Shetland Pony Sales 2020
Friday 27th March

Thimbleby & Shorland
52nd Annual Reading Show & Sale of Registered Shetland Ponies
Wednesday 21st October 2020 at 9:30
Mick and Judy are very happy that Billy is now a licensed stallion.
Merrylees Billy the Kid – 30″
Sire – Merrylees Ringmaster
Dam – Merrylees Angelina
"On Valentines Day Shallochmill Crunchie arrives, a fortnight early and I think he is the first Scottish Foal to be born this year.
Mother and baby doing great but I'm getting nothing at all done due to sitting watching them!" says Susan
Is this the first Shetland foal of 2020? Send them in…..
Thank you for your patience in January during the transition of the site. I have received several emails about the new site, with a lot of good comments – Thank you. I also received a few suggestions (which are always welcome), about how it could be improved, a common one was about the colours being a bit dull on the Link Buttons, so I've made them a bit brighter! It is also fully responsive, so the screen size will alter to your screen. 
The same format that's served this site for 20 years applies, Stud Web Links on the front page, a Current News page, a Ponies For Sale page, a 'NEW' Stud Type page, a 'NEW' Stud Map page and a Show Dates Page. I will be adding the previous years news in due course. Please keep sending in all your News & Ponies For Sale.
The Stud Type page is at the moment split into 2 categories, Standards & Miniatures. On the Map page you can get a marker on your exact location or your postcode. This would be useful to visitors planning stud visits, to see your locations around the country. To get your Stud listed or edited on either the 'Type' or 'Map' page please get in touch.
If you wish your Stud Link to be included on the front page or you are needing a website built please get in touch – info@shetland-pony.com
Shetland Performance 2019 –  Inhand Awards – Overall Points Champion
Miniature Stallion – Highedge Darcy owned by Jill Needham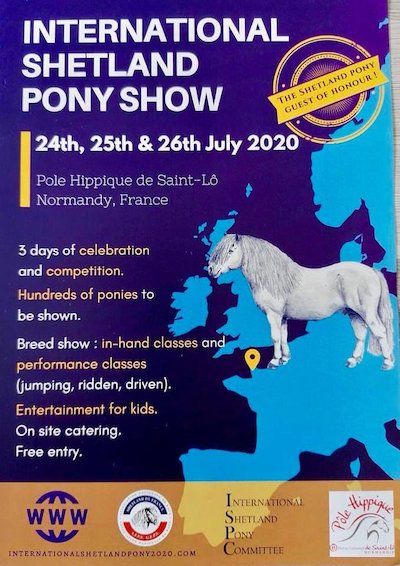 International Shetland Pony Show 24th – 26th July 2020
at The Pôle Hippique de Saint-Lô (St Lô equestrian pole).
Accomodation;
A dedicated park on the Pôle Hippique de Saint-Lô offers hardstanding pitches with electric hook-up for lorries, campervans and caravans.  
No grass pitches for tents available on site, but still possible to have your tent in the parking.
Stables;
More than 200 stables are available, close to the showrings. Straw provided. Hay available on site.
More Info – www.internationalshetlandpony2020.com/
A website promotes your Stud, it acts as a digital brochure providing information about you and your ponies.
Don't have a website? Don't worry we can make you one!
From a simple website hosted by shetland-pony.com to a stand alone www.yourstud.co.uk
We can manage and update your website as an when you require or simply set it up and let you do the work yourself.
Here are two examples of home pages;
Horse of the Year Show 2020 National Pony Society / Baileys Horse Feeds M&M Ridden Pony of the Year Qualifiers containing Shetlands;
Native Breeds Ridden Festival – 31/05/2020

Midland Counties Show – 06/06/2020 – 07/06/2020

Royal Three Counties – 12/06/2020 – 14/06/2020

Derbyshire Festival – 13/06/2020 – 17/06/2020

Royal Cheshire County – 16/06/2020 – 17/06/2020

Royal Highland Show – 18/06/2020 – 21/06/2020

North of England Summer Pony Show – 27/06/2020 – 28/06/2020

Royal Norfolk Show – 04/07/2020

Monmouthshire Show – 04/07/2020

NCPA Staffordshire County Festival – 04/07/2020 – 05/07/2020

Scottish Horse Show – 08/07/2020

Great Yorkshire Show – 14/07/2020 – 16/07/2020

New Forest and Hampshire County Show – 28/07/2020 – 30/07/2020

NPS Summer Championships – 31/07/2020 – 02/08/2020

Stoneleigh Horse Show – 07/08/2020 – 09/08/2020

Shetland Pony Society Stud Book Breed Show – 30/08/2020

Moreton in Marsh Show – 05/09/2020
Letters from Macmillan & Alzhiemers Society to all the people who donate to Gerry Hart's shetland-pony.com SHETLAND PONY OWNERS AND BREEDERS Christmas Appeal, that was split between Macmillan & Alzheimer's Society, all cards can viewed HERE;
We can't say thank you enough
Thank you so much for your very kind donation of £595.00 to Macmillan Cancer Support Your generosity and support will allow us to help everyone with cancer live life as fully as they can
We would like to thank all owners and breeders for your generosity, kindness and commitment to supporting the work that we do at Macmillan. £595.00, for example, could pay for a Macmillan social care worker or family support worker for 1 week, helping patients, family members, and carers manage the social and practical problems of living with cancer.
How you're helping
At Macmillan, we understand that cancer can impact a person's whole life – health, money, family, work; everything. We can help people with managing symptoms and offer advice and benefits for things like keeping the cost of heating down during treatment. We can also provide training for employers to support people back to work. With your support, people get the energy and inspiration to feel more like themselves.
Thank you once again for being a part of Team Macmillan.
Dear Gerry Hart
We can achieve so much more when we come together. Thank you so much to everyone at Shetland Pony Group for uniting against dementia and raising a fantastic £595.00 from your fundraising – what a fantastic achievement!.  We will ensure that we make every penny count to drive our crucial work.
Dementia devastates lives. By 2021, 1 million people will be living with the condition. But dementia won't win. Until the day we find a cure, Alzheimer's Society will be here for anyone affected by dementia – wherever they are, whatever they're going through. Everything we do is informed and inspired by them.
We'll make sure that your donation is put to good use, whether it's spent on campaigning activity to stand up for people with dementia, funding research to develop a cure, or delivering vital services across the UK; it's going to make a huge difference.
Just one of the vital services we provide is Side by Side where we focus on the individual needs and personalities of people with dementia, allowing them to continue doing their favourite activities and making sure people living with dementia don't feel alone.

'After a whole year of not going out, I now can't imagine staying indoors.' – Val, living with dementia, using Side by Side

We're taking on dementia to put a stop to it, any way we can.
Once again, thank you. With your help we hope to one day win the battle against dementia.
After much thought and deliberation, I have decided that it is time for me to pass on the baton which is Shetland-pony.com. I will miss it, but I've got to the stage having been on steroids for years that they are starting to have some of the side effects long usage brings. Whilst they make me 'sharp' and on the ball, amongst other things, they thin the skin, not good for someone sat in a wheelchair.
Neil Kirkness from Orkney now owns the site, and much of its present content and format will remain the same, along with a new modern web site. Bear with us while the transition takes place. I have had my go, and its time to bring in new blood.
I'd like to leave a legacy of good memories, the Sussex Show, which I started and ran for 18 years the South East group for a similar time, passing its financial reserves to the Downs group which continues in the area. I set up the National in hand awards, a points scheme with an annual 'black tie' dinner and presentation at the Spa Hotel, Tunbridge Wells, a highly successful, prestigious scheme and awards dinner attended by owners and breeders from Scotland, N Ireland, Wales and of course England. I always believed it was an important scheme that should be run by the breed society, eventually they agreed and continue with it to this day.
There are over 200 paintings by me of mostly Shetland ponies In the UK and worldwide, 150 illustrated in a book for reference. I think Kevin and I have bred some good ponies over the years and will continue with that, 3 perhaps 4 per annum, for the foreseeable future.
I'd just got my first PC in 1999, lying awake, the concept of a website that listed studs, promoted news, enhancing the reputation of the breed, a list of affiliated shows/schedules as provided by show secretaries, a results service, links to groups and associated sites, and a ponies for sale page. All laid out in an easy to access format. Over the years I have thought how I might improve it. I always believed it 'does what it says on the tin'. That's not to say it can't be improved. The whole public perception of the Shetland pony has markedly improved to equality with other breeds. You've been out there 'doing it' breeding some fabulous ponies, but it has been Shetland-pony.com that has told the world.
Social media such as facebook has entered the fray, people can 'post' what they like, (and they do!) I'm not entirely sure that breed perception has been enhanced, certainly the perception of some are that they are overly 'pleased with themselves' and far too self congratulatory for my taste and many others. Shetland-pony.com, under my EDITORSHIP, WHILST CONGRATULATING SUCCESS, has stuck to the facts and results, that's one of the reasons why people return all the time to the site. I am assured and confident that Neil will continue in the same even handed approach.
Bear with us during this transition period of minimal disruption and a bright new future for the first and most respected Shetland pony web site. Gerry Hart. xx