Full 2019 News to be added shortly
Fabulous record breaking Olympia, for Sussex Breeder and Producer, Debbie Barr from Firle near Lewes. Two of the three Shetland ponies at the Olympia final were bred by her. The black (Ricardo) was best Shetland.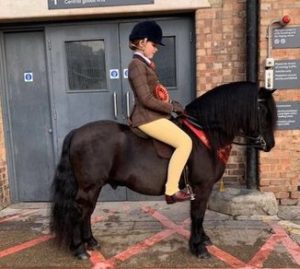 Fran Punton's Almondell Sabrina winning the Overall Shetland championship at the Native Pony winter fair. Connections delighted
SWSG were delighted to welcome members of The North Wales Shetland Breeders Group to the end of season lunch held at the Royal Ship Hotel Dolgellau on the 1st December 2019.
Thanks to everyone who came and to Elaine and Emma for organising the lunch and to Audrey Jones Isle of Mona Stud who gave a very interesting talk.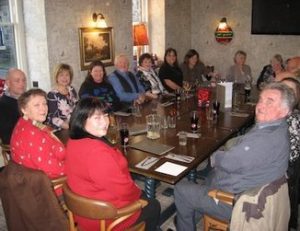 Dougal W. H. Dick (Transy Stud)
Died suddenly on Monday 25th NOVEMBER 2019
Truly 'Mr Shetland Pony' A huge loss to the breed and the Society
Funeral at Dunfermline Crematorium on Tuesday 10th December at 1045 a.m. and afterwards at Garvock House Hotel. No flowers please. All welcome.
Dryfesdale Dynamic on latest news. He has just been broken to ride and made his debut yesterday achieving third place. He is owned by Mick Woods and Linda Seward.
On Saturday (9th November) the Central Scotland Shetland Pony Group held our Youngstock Show at Caledonian Marts, Stirling.
Photos were taken by Annette Sproul
Noreen Patricia Anne Burt (Trewordergrange Shetland Stud)
1931 – 2019 Passed away peacefully after a short illness.
Funeral Service at Egloshayle Parish Church. Thursday 14th November at 11.30am
Family flowers only. Donations in lieu to Egloshayle Church and Cinnamon Trust
Funeral Directors: R J Bray & Son, Egloshayle Rd, Wadebridge, Cornwall PL27 6AD
Toby of Catchpool with Lara Joslin and a very happy little rider at S.W.Wales GROUP show.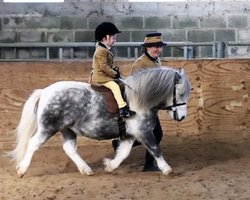 The Wessex Shetland Pony Group held our Autumn show on Sunday 20th October.  We had a lot of fun at the show which offered the usual range of showing classes and some fun classes were added for everyone with the theme of Halloween. Our members are always so creative! Well done to everyone and congratulations to all of our competitors, the showing results are:
Supreme Champion – Claudia Groves with Selspen Merry (picture) Reserve Supreme – Kerswell Mr Red
Miniature Junior Champion – Shangrila Dylan——Reserve Miniature Junior Champion – Snelsmore Ultimate
Miniature Senior Champion – Kerswell Mr Red——Miniature Reserve Senior Champion – Witcombe Eros
Miniature overall Champion – Kerswell Mr Red——-Reserve overall Champion – Shangrila Dylan                          
Standard Junior Champion – Kilnbrook Isambard—-Reserve Standard Junior Champion – Sharptor Dashwood
Standard Senior Champion – Sedgehill Olivia———Standard Reserve Senior Champion – Sharptor Armani
Standard overall Champion – Sedgehill Olivia——-Reserve overall Champion – Kilnbrook Isambard
Ridden Champion – Selspen Merry—————–Reserve Ridden – Kilshane Almond
It was lovely to see the creations produced in the fancy dress class, our thanks to the competitors for your hard work. The pictures show Lily Chant as a purple witch with her pony appropriately named Magic Star, Lucy Stuchfield as a ghost and her pony Teegan attired with spiders and hanging skeletons and Jasmine Wills as the green witch and her pony Lupin as a black cat. We also had pony pumpkin lanterns and home made halloween pony treats!  We are now full steam ahead preparing for the group Christmas Lunch which is taking place on Sunday 1st December at our lovely new venue, The Northover Manor. Hoping to see everyone there for another day of enjoyment and of course festive eating.
Wessex Shetland Pony Group Autumn Show
Wotknotts Midge 2nd Miniature Stallion, 1st Owner Bred
South West Wales Group Show
Rhandolph of Catchpool
Autumn Show Standard Champion
Lara Joslin / Anna Stevens
Four year old Grutness Shybrea (BC0845) Show Champion at 2019 Lerwick sale, from Gordon Douglas, Scatness. By Grutness Hyonog (AQ0540/S07-170) and out of Griesta Brea (AN1732/M06-158), Brea realised 600 gns to S Harris, Hereford.Also in picture is judge, Mr John Harrison, Morecambe, Lancashire.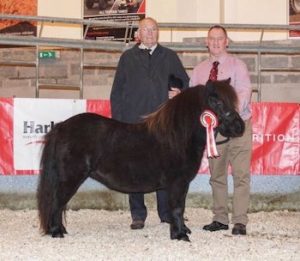 Lerwick Pony Sale 2019
 The 60th annual Lerwick Shetland Pony Sale was held on Friday 4th October at the Shetland Rural Centre.  The Pony Breeders of Shetland Association (PBSA) in conjunction with the Shetland Livestock Marketing Group (SLMG) and Aberdeen and Northern Marts (ANM) once again hosted the sale with 63 ponies entered and 60 forward.  Once again there was a good entry of very good quality ponies, in a variety of sizes and colours to suit a range of buyers. The ponies began arriving at the Mart on the Thursday afternoon prior to the show, with exhibitors and potential buyers invited to socialise together whilst enjoying the fantastic spread of sandwiches and home bakes laid on by the PBSA.  Thanks again to Rosemary Cross for co-ordinating the food. 
The show of ponies to be sold commenced at 6pm on the Thursday evening with this year's judge, Mr J Harrison travelling up from Lancashire.  The show was live streamed through the online bidding facilities, and again the facilities were available on the Friday for bidding.     
The Best Filly foal, Champion Foal and Reserve Show Champion was the Standard Black filly foal Filska Shelby from Miss S Anderson, Ollaberry. The Best Colt Foal was the Miniature Bay Tupton Vito from J W Laurenson, Unst. Overall Show Champion was the 37" Black Mare Grutness Shybrea from Mr G Douglas, Virkie.
The sale commenced at 9.30am and was broadcast live via the online bidding facilities. A huge response yet again from the online bidding, resulted in 26 ponies of the 60 forward, selling through the online bidding.  Photographs and details of the lots for sale were available to be viewed online for several weeks prior to the sale to generate interest and give buyers a chance to make enquiries and choose their purchase.
The success of the Breed Show celebrations back in July, and the Select Sale of Ponies in July helped to generate interest in the ponies forward for the October sale.  The hard work and dedication of the PBSA committee, by helping to promote the ponies from Shetland and promote the work we do here certainly helped to create interest in the sale. 
The sale was slow to start but gained momentum and prices were better across the board this year with some strong competition for a few ponies. This was reflected in the overall average price, being 375 guineas per pony.  Huge thanks to auctioneer Rod MacKenzie and Alan Donald for doing a fantastic job for all concerned.  Also a huge thanks to all our class sponsors, Harbro and Northlink Ferries.
Newbury, by Jackie Percy. A lovely end to what turned out to be a rather wet Royal County of Berkshire show. With the morning sun disapparing to the forecasted heavy rain, we all had to soldier on regardless. After winning his class Snelsmore Uno and Cliff won the Junior Championship and received Cold Ash cup for the Best Opposite sex to Champion. Snelsmore Sienna and I had the worst of the weather getting completely soaked, but Sienna has become such a consistent mare she never put a foot wrong all day, and was rewarded by being chosen as Miniature Champion.
Birchmoor Simone at Eggleston Show
Last show of the year finishing with a brilliant day gaining
1st standard yearling, overall junior and supreme shetland champion of the show.
Judge Miss D Dixon.
She has been awarded 6 firsts, 5 junior champs ,1 res supreme and 1 supreme.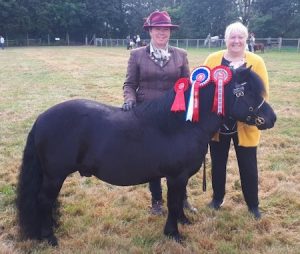 Royal Berkshire show, Newbury. A fantastic way to end a fantastic season with Jill Jones's Kerloch Pilgrim, expertly shown all year by Sian Greene…..
1st stallion, standard champion and then NPS silver medal mountain and moorland champion.