Shetland Pony News & Show Reports 2019
Fabulous record breaking Olympia, for Sussex Breeder and Producer, Debbie Barr from Firle near Lewes. Two of the three Shetland ponies at the Olympia final were bred by her. The black (Ricardo) was best Shetland.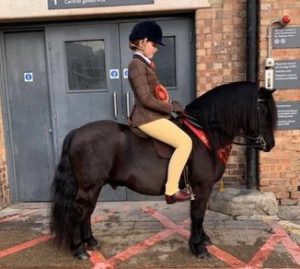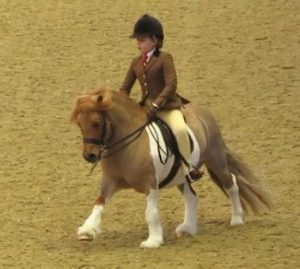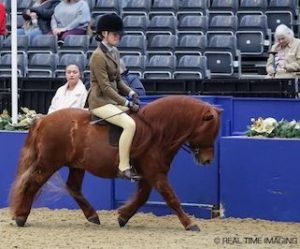 Fran Punton's Almondell Sabrina winning the Overall Shetland championship at the Native Pony winter fair. Connections delighted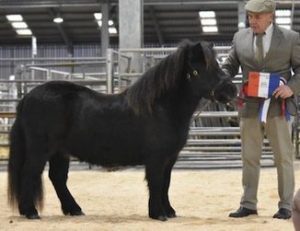 SWSG were delighted to welcome members of The North Wales Shetland Breeders Group to the end of season lunch held at the Royal Ship Hotel Dolgellau on the 1st December 2019.
Thanks to everyone who came and to Elaine and Emma for organising the lunch and to Audrey Jones Isle of Mona Stud who gave a very interesting talk.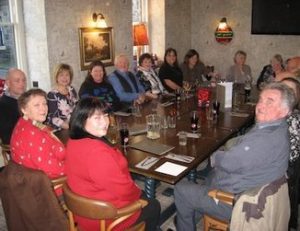 Dougal W. H. Dick (Transy Stud)
Died suddenly on Monday 25th NOVEMBER 2019
Truly 'Mr Shetland Pony' A huge loss to the breed and the Society
Funeral at Dunfermline Crematorium on Tuesday 10th December at 1045 a.m. and afterwards at Garvock House Hotel. No flowers please. All welcome.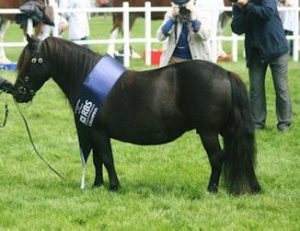 Dryfesdale Dynamic on latest news. He has just been broken to ride and made his debut yesterday achieving third place. He is owned by Mick Woods and Linda Seward.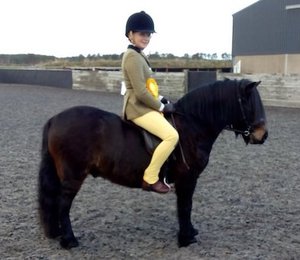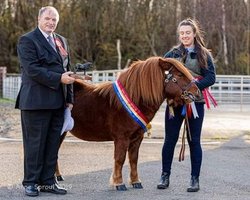 On Saturday (9th November) the Central Scotland Shetland Pony Group held our Youngstock Show at Caledonian Marts, Stirling.
Photos were taken by Annette Sproul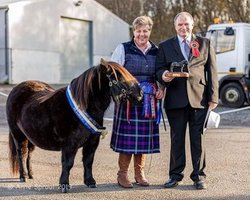 Noreen Patricia Anne Burt (Trewordergrange Shetland Stud)
1931 – 2019 Passed away peacefully after a short illness.
Funeral Service at Egloshayle Parish Church. Thursday 14th November at 11.30am
Family flowers only. Donations in lieu to Egloshayle Church and Cinnamon Trust
Funeral Directors: R J Bray & Son, Egloshayle Rd, Wadebridge, Cornwall PL27 6AD
Toby of Catchpool with Lara Joslin and a very happy little rider at S.W.Wales GROUP show.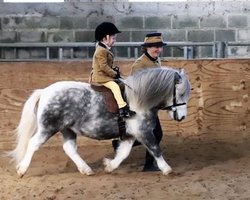 The Wessex Shetland Pony Group held our Autumn show on Sunday 20th October.  We had a lot of fun at the show which offered the usual range of showing classes and some fun classes were added for everyone with the theme of Halloween. Our members are always so creative! Well done to everyone and congratulations to all of our competitors, the showing results are:
Supreme Champion – Claudia Groves with Selspen Merry (picture) Reserve Supreme – Kerswell Mr Red
Miniature Junior Champion – Shangrila Dylan——Reserve Miniature Junior Champion – Snelsmore Ultimate
Miniature Senior Champion – Kerswell Mr Red——Miniature Reserve Senior Champion – Witcombe Eros
Miniature overall Champion – Kerswell Mr Red——-Reserve overall Champion – Shangrila Dylan                          
Standard Junior Champion – Kilnbrook Isambard—-Reserve Standard Junior Champion – Sharptor Dashwood
Standard Senior Champion – Sedgehill Olivia———Standard Reserve Senior Champion – Sharptor Armani
Standard overall Champion – Sedgehill Olivia——-Reserve overall Champion – Kilnbrook Isambard
Ridden Champion – Selspen Merry—————–Reserve Ridden – Kilshane Almond
It was lovely to see the creations produced in the fancy dress class, our thanks to the competitors for your hard work. The pictures show Lily Chant as a purple witch with her pony appropriately named Magic Star, Lucy Stuchfield as a ghost and her pony Teegan attired with spiders and hanging skeletons and Jasmine Wills as the green witch and her pony Lupin as a black cat. We also had pony pumpkin lanterns and home made halloween pony treats!  We are now full steam ahead preparing for the group Christmas Lunch which is taking place on Sunday 1st December at our lovely new venue, The Northover Manor. Hoping to see everyone there for another day of enjoyment and of course festive eating.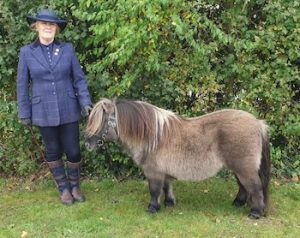 Wessex Shetland Pony Group Autumn Show
Wotknotts Midge 2nd Miniature Stallion, 1st Owner Bred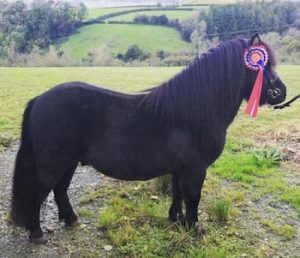 South West Wales Group Show
Rhandolph of Catchpool
Autumn Show Standard Champion
Lara Joslin / Anna Stevens
Four year old Grutness Shybrea (BC0845) Show Champion at 2019 Lerwick sale, from Gordon Douglas, Scatness. By Grutness Hyonog (AQ0540/S07-170) and out of Griesta Brea (AN1732/M06-158), Brea realised 600 gns to S Harris, Hereford.Also in picture is judge, Mr John Harrison, Morecambe, Lancashire.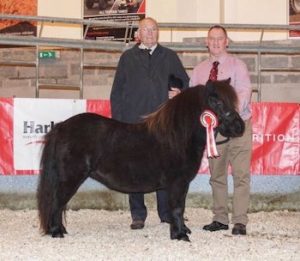 Lerwick Pony Sale 2019
 The 60th annual Lerwick Shetland Pony Sale was held on Friday 4th October at the Shetland Rural Centre.  The Pony Breeders of Shetland Association (PBSA) in conjunction with the Shetland Livestock Marketing Group (SLMG) and Aberdeen and Northern Marts (ANM) once again hosted the sale with 63 ponies entered and 60 forward.  Once again there was a good entry of very good quality ponies, in a variety of sizes and colours to suit a range of buyers. The ponies began arriving at the Mart on the Thursday afternoon prior to the show, with exhibitors and potential buyers invited to socialise together whilst enjoying the fantastic spread of sandwiches and home bakes laid on by the PBSA.  Thanks again to Rosemary Cross for co-ordinating the food. 
The show of ponies to be sold commenced at 6pm on the Thursday evening with this year's judge, Mr J Harrison travelling up from Lancashire.  The show was live streamed through the online bidding facilities, and again the facilities were available on the Friday for bidding.     
The Best Filly foal, Champion Foal and Reserve Show Champion was the Standard Black filly foal Filska Shelby from Miss S Anderson, Ollaberry. The Best Colt Foal was the Miniature Bay Tupton Vito from J W Laurenson, Unst. Overall Show Champion was the 37" Black Mare Grutness Shybrea from Mr G Douglas, Virkie.
The sale commenced at 9.30am and was broadcast live via the online bidding facilities. A huge response yet again from the online bidding, resulted in 26 ponies of the 60 forward, selling through the online bidding.  Photographs and details of the lots for sale were available to be viewed online for several weeks prior to the sale to generate interest and give buyers a chance to make enquiries and choose their purchase.
The success of the Breed Show celebrations back in July, and the Select Sale of Ponies in July helped to generate interest in the ponies forward for the October sale.  The hard work and dedication of the PBSA committee, by helping to promote the ponies from Shetland and promote the work we do here certainly helped to create interest in the sale. 
The sale was slow to start but gained momentum and prices were better across the board this year with some strong competition for a few ponies. This was reflected in the overall average price, being 375 guineas per pony.  Huge thanks to auctioneer Rod MacKenzie and Alan Donald for doing a fantastic job for all concerned.  Also a huge thanks to all our class sponsors, Harbro and Northlink Ferries.
Newbury, by Jackie Percy. A lovely end to what turned out to be a rather wet Royal County of Berkshire show. With the morning sun disapparing to the forecasted heavy rain, we all had to soldier on regardless. After winning his class Snelsmore Uno and Cliff won the Junior Championship and received Cold Ash cup for the Best Opposite sex to Champion. Snelsmore Sienna and I had the worst of the weather getting completely soaked, but Sienna has become such a consistent mare she never put a foot wrong all day, and was rewarded by being chosen as Miniature Champion.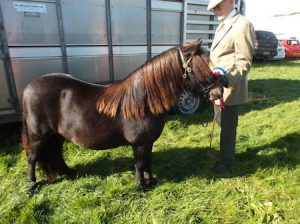 Birchmoor Simone at Eggleston Show
Last show of the year finishing with a brilliant day gaining
1st standard yearling, overall junior and supreme shetland champion of the show.
Judge Miss D Dixon.
She has been awarded 6 firsts, 5 junior champs ,1 res supreme and 1 supreme.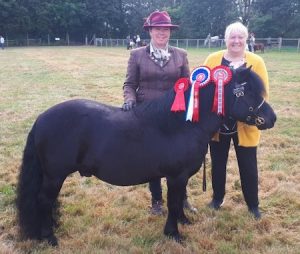 Royal Berkshire show, Newbury. A fantastic way to end a fantastic season with Jill Jones's Kerloch Pilgrim, expertly shown all year by Sian Greene…..
1st stallion, standard champion and then NPS silver medal mountain and moorland champion.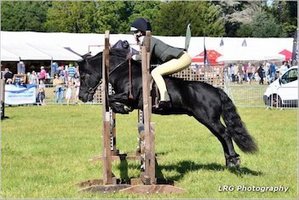 Carmilo Magician & Bea Shepherd qualified for the Royal International 2020 at the Romsey Show and Stood Reserve Champion too!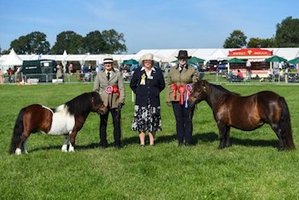 Kington Show 14th September Judge Mrs G Cowell
Overall Champion – Snelsmore Sundance (Clifford & Jaqueline Percy)
Standard Champion – Pankymoor Ember (Nina Anderson Smith)
Eileen Carlyle's Dryfesdale Ponies attended Westmorland County Show yesterday and were delighted by their results.
Dryfesdale Divine 3rd in a large class with exceptionally good quality ponies.
Dryfesdale Desire 3rd in 2/3yr old class/
Dryfesdale Martina 1st yearling, Reserve Junior Champion and Reserve Miniature Champion.
Congratulations to John, Joy, Michael and Iraynor on your well deserved wins, unfortunately due to horrendous weather no photos.
Dorset County Show 7th September, Eiger Tornado won the Miniature Shetland Youngstock class and went Reserve Overall Junior Champion. Eiger Oliver won the Miniature 4yrs old & over class and went on to be Overall Shetland Champion.
The following day at the Southern Shetland Pony Group Show, the Eiger team attained the following results; Tornado won the Miniature 2yr old class and went on to be Junior Champion and then Reserve Miniature Overall Champion. Oliver won the Miniature Stallion class, took the Senior Championship, Overall Miniature Championship and Reserve Supreme Champion.
SOUTHERN SHETLAND GROUP SHOW 8th September, Frensham, Surrey
Report by show sec. Jackie Percy. 
Thank you to everyone that help yesterday a great success. Our two Judges, Mrs Jackie webb and Mrs A Foster for being on their feet nearly all day making some very tough decision. Stephanie and Janet our great stewards, mustn't forget Phoebe and Isabel for keeping them supplied with rosettes made by Pat Slade. Cliff for keeping things running smoothly in the collecting ring. Our caterers Flamin Tu…cker for keeping us all feed and water. David Purday for capturing those memories on camera.
Most of all, you competitors without you there's no show.
As well as showing our ponies, we managed to raise a whooping two hundred pounds for the hospice in the weald with the raffle.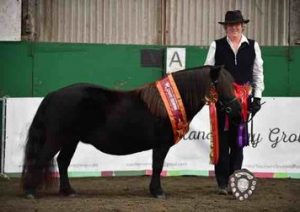 Dorset County Show
Trudi Ridgers' blue dun 5-year old Stallion Wotknotts Midge, 2nd in 4 and over Miniature Shetlands in a really strong class with 13 forward. Frank Hodder 1st with Eiger Oliver has had a great season, so Trudi was delighted to come 2nd!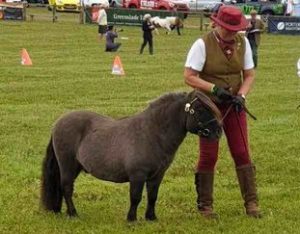 Kerloch Pilgrim, OWNED BY Mr + Mrs R. Jones, shown by
SIAN GREENE 1st in the Spillers Shetland class then went
Supreme overall mountain and moorland champion in the afternoon Gala.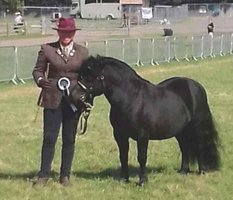 Llanfair Caereinion Show 31st August 2019     Judge Miss A Francis
Overall Champion Carrickfergus Misty Surprise – Mr & Mrs Handley. 
Overall Reserve Champion  Enigma Xquisite – Elaine Fitzhugh.

Standard Champion Carrickfergus Misty Surprise – Mr & Mrs Handley.

Standard Reserve Champion  Edern Cadog – Gwen Holland.

Miniature Champion Enigma Xquisite – Elaine Fitzhugh.

Miniature Reserve Champion Harwel Lancelot – Mr & Mrs Handley.   Report by F.M.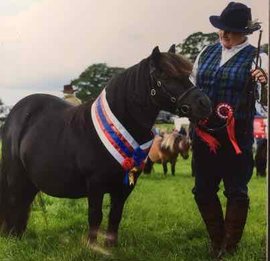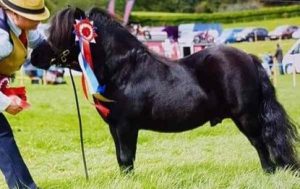 Merioneth County Show 28th August 2019    Judge Mr Harrison
Overall Champion Carrickfergus Misty Surprise – Mr & Mrs Handley.
Overall Reserve Champion Enigma Xquisite – Elaine Fitzhugh
Standard Champion Carrickfergus Misty Surprise – Mr & Mrs Handley
Standard Reserve Champion Serenteifi Rhodri Emlyn – Miss F Morkill
Standard Junior Champion Ladbury Etta – Miss F Morkill & Mr N Buffery
Standard Res Jun Champion Isle of Mona Armon – Miss Mared P Evans
Miniature Champion Enigma Xquisite – Elaine Fitzhugh
Miniature Reserve Champion Wolfords Stardust – Mr R.R Jones
Miniature Junior Champion Treflys Violet – Elaine Fitzhugh
Miniature Res Jun Champion Carain Elisha Willow – Mrs C Salters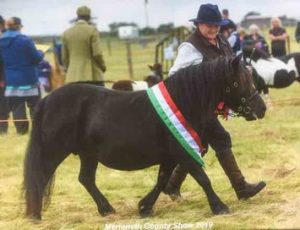 A week past on Saturday (17th August) the Central Scotland Shetland Pony Group held our Summer Show at Caledonian Marts, Stirling.  
Photos are of the Supreme Champ handled by John Watson and Reserve Supreme Champion handled by Sarah Ross. 
Photos were taken by Annette Sproul. 
Championship Results
Supreme Ch:  Jedhart Stud, Kerloch Rupert
Reserve Supreme Ch:  Transy Stud, Stelhoneybee of Transy
Lynsey Thomson, Secretary, The Central Scotland Shetland Pony Group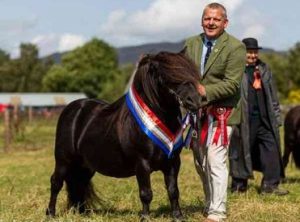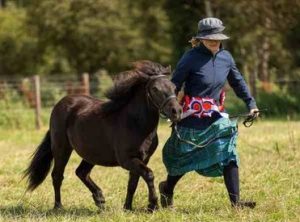 Manhood RC.
Kris Fennessy's Somahouse G.T. 11 year old stallion
by Birchmoor Mulberry out of Waulkmill Hesper.
He was first in the Shetland class and ring champion.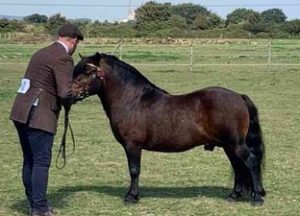 Rita Bundock's Buxted Emma-Lee continued her winning ways at Edenbridge and Oxted Show last Sunday. Winning the 2 & 3 yr old colts/fillies class, then the Junior Championship followed by Reserve Overall Standard Shetland Championship. The perfect end to a perfect season.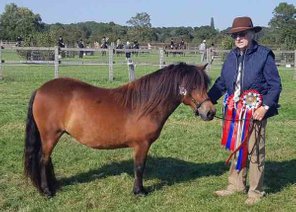 Blair Castle yesterday Cathkin of Transy Reserve Champion in the Silver Medal and so got a beautiful Gold Medal rosette. Charlotte of Transy was first in the shetland over 4 years old and Roscallin of Transy was 3rd in the mixed mountain and moorland 3 years old and under. Thank you NPS Scotland for a fabulous day and to Mhairi Willison and Sophie Ross for helping.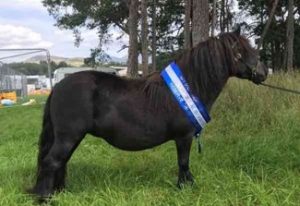 Fairy Victoria owned and shown by Mrs V Laing and bred by Countess De La Warr wins the 2 year old filly class at the Wessex Show.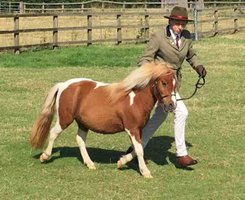 Viking Show 2019 Results
The 28th Viking Shetland Pony Show was held on Sunday 18th August 2019 at the Cunningsburgh Showfield.  This year's judges were Jem Roberts in the Standard Ring, Jane Barry in the Performance Ring and Kay Gibb in the Small Ponies Ring.  A lovely relaxed day was had by all, with the weather being favourable for the duration of the day.  The organisers Kirsty, Sheena and Amanda decided to introduce a new class to the schedule this year, a long reining class.  This was held at the start of the day to allow any pony/exhibitor to enter also allowing for a big contingent of spectators.  A great success with seven entries forward on the day, with Nina Fraser and Ulverscroft Midnight Red coming out on top.  Many thanks to the Filska Stud for sponsoring this class, and their generous prize money donation.  Huge congratulations to Amanda Slater of the Breckenlea Stud for winning Supreme Champion with the handsome black with white socks miniature stallion Kerswell Starbuck.  Also congratulations to the Reserve Supreme Champion Arnum of Auckhorn a black standard stallion exhibited by Allan Manson of the Hestigarth Stud.  A great show of super quality ponies turned out to a high standard. Entries were up on last year with a total of 185 entries, and great to see some new faces, and some return to the showring who have not shown for a while.  Massive thanks must go to all judges, stewards, Abigail Robertson for office duties on the day, sponsors, exhibitors and organisers.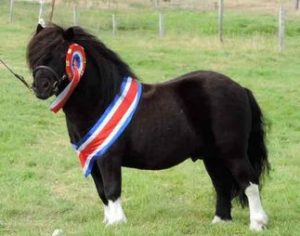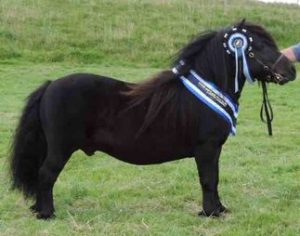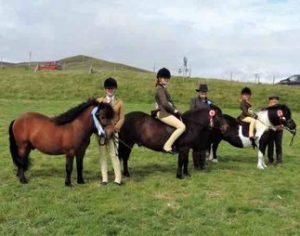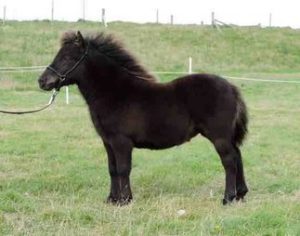 Central Scotland Shetland Pony Summer Show was the last show of the summer for Abbeygreen Shetlands and it didn't disappoint!
With several of our ponies now on a well deserved holiday we were very pleased with our results.
Fayrefield Bojangles, 2nd Miniature shetland stallion.
Eiger Latte, 1st Miniature shetland yeld mare.
Gue Tarah, 2nd Miniature shetland yearling.
Enigma Tabitha, 1st 2/3yr old Miniature shetland , Open Miniature Junior Champion, Overall Miniature Junior champion, Open Miniature Reserve Champion & Overall Miniature Reserve Champion. Winning the Kenston trophy & The Gilsland Wells trophy.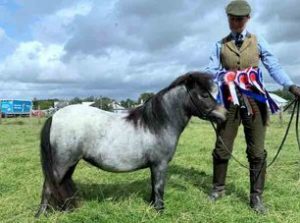 Denbighshire and Flintshire County Show 15th August 2019
Judge Mr K Twaddell from Australia
Champion Female & Overall Champion Annwood Golden Token – Megan Roberts
Champion Male & Reserve Overall Champion Ladbury Pretender – Miss F Morkill & Mr N Buffery
Junior Champion Ladbury Pretender – Miss F Morkill & Mr N Buffery
Junior Reserve Champion Sharptor Unique – Pauline Evans
Best Gelding Gwyddelfynydd Galahad – Miss F Morkill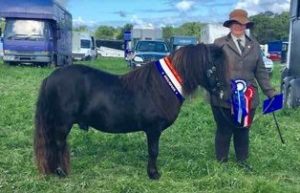 Wessex Shetland pony group summer show. "KERLOCH VERITY" winning the Mare class(strong class of 12) then Standard champion, Senior overall champion, to go on to become Supreme champion. The Wessex Shetland Pony Group held our Summer Show on Sunday 18th August, we had a good time with lovely ponies forward and plenty for our two judges, Mrs C A Jones and Mr T A Jones, to cast their eyes over. Our congratulations go to John & Shirley Chapple who won the Supreme Championship with their mare Kerlock Verity and Mark Whitehouse taking the Reserve Supreme with his pony, Shawdene Jonquil. It was lovely to see the Young Handlers in force again with new handlers coming forward. The mare class in both rings was extremely well supported, in fact the two biggest classes of the day with foals present in both rings as well. Congratulations to everyone who attended and exhibited their ponies and to the spectators that came, it was lovely to see you all, some exhibitors had travelled a very long way and we really appreciate your support. We would just like to say a big thank you to all the volunteers who helped us, the stewards, ring runner, raffle ticket sellers and the car park attendant, thank you all.
Our other Championship results were:
Junior Miniature: Shawdene Jonquil who also took the overall Miniature ring Championship Junior Reserve Miniature: Halstock Spice
Junior Standard: Sharptor Tonya (pic 0936)
Reserve Standard Junior: Blacketor Valentine
Senior Miniature Champion: Eiger Nectarina
Reserve Miniature Senior: Tygwyn Black Prince
Senior Standard Champion and Overall Standard ring Champion: Kerlock Verity and took the Overall Standard ring Championship
Reserve Senior Standard: Lakehead Merrianne  
Ridden Champion: Claudia Groves on Selspen Merry
Reserve Ridden: Molly Marston on Kilshane Almond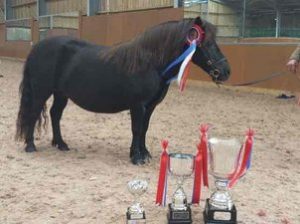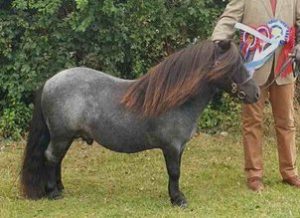 Minsterley Show 17th August 2019
Judge Mrs E.E Young
Standard Champion Pankymoor Ember – Miss Nina Andersen Smith
Standard Reserve Ch. Ladbury Etta – Miss F Morkill & Mr N Buffery
Miniature Champion Corleyoak Gladiator – L Hamilton
Miniature Reserve Champion Caerneuadd Thistledown – Mrs D.E Lanman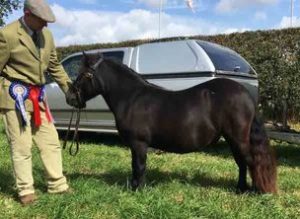 Tawna Stud's Showing News 
At a traditionally wet Camelford show this week, Tawna stud's chestnut stallion Milday Mr Bojangles (photo taken at a dry show!) was chosen by judge Mrs Jane Lonsdale as Miniature Champion and Overall Breed Champion. He also won the M & M 4 years and over class under a different judge.
Other principal winners:
Reserve Mini Champ – Tawna Moonshine (Pam Tabb)
Standard Champ and Res Breed Champ – Zennor Roxy 
Res Standard Champ – Zennor Silver Shadow (both owned by Cosgrove family)
Overall Junior Champ – Pinglewood Thornton (Trudy Waterhouse)
Res Junior Champ – Tawna Angus (Pam Tabb)
Overall Gelding Champ – Zennor Silver Shadow
Res Gelding Champ – Tawna Moonshine
The following day at Chagford Show Tawna Clarius won a large under 14.2hh coloured class and took Reserve Champ in the coloured ring under judge Mrs Sandra Seward. 
Earlier in the summer at Liskeard show, seventeen year old brood mare Tawna Clementine (dam of Clarius) was chosen by Mrs Carol Hodder as Mini Champ, with Milday Mr Bojangles as Reserve. Clementine was also Res Breed Champ.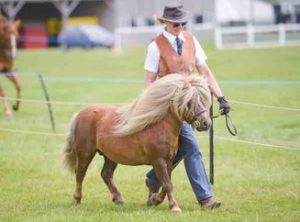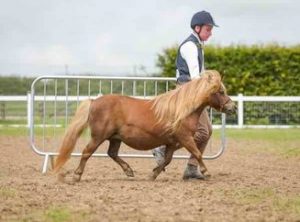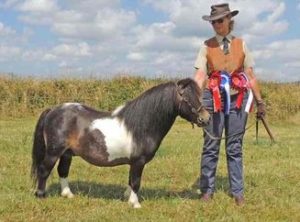 Alan Hurst, 89, passed away at 1am 6th August 2019. Alan was a widower, his wife, the late lamented Ann Hurst and was father to Guy Hurst who is a past President of The Shetland Pony Breed Society. Ann, supported by Alan, bred ponies, standard blacks under her Greenhurst Prefix, and along with Ann, ran the much missed 'AUTUMN SHETLAND SHOW'. R.I.P.
Funeral will be on Monday 2 September 2.15pm at Guildford Crematorium **
Children's SHETLAND PONY RIDDEN CLASS, L/rein, F/ridden, all in together. 9 on lead rein, 5 off. A lovely class, enjoyed by all at Pembrokeshre County Show. 

THE DOWNS GROUP SHOW ATTRACTS A VERY GOOD ENTRY………….. Eiger Oliver [Frank Hodder] Supreme Champion of Show. Mandy Sargeant,  does a 'Frankie Detorri at Ascot' winning all her classes entered and taking the standard championship and Reserve supreme of show.
Principal results from show sec. 
Ridden ch Hermits bolero, Lily Bush, res Hawkdale clansman, Lucie Dale, Std Jun Champlers Rosetta , res buxted Emma-lee , St Sen Champlers rose petal , res. Ladbury Eloise,  Overall st champlers rose petal , res champlers rosetta Jun mini shawdene jonquil. Res Eiger tornado , Sen mini Eiger Oliver res snelsmore Sienna , Overall mini Eiger Oliver. Res snelsmore Sienna Gelding ch tussilago neymar Res buxted Picasso Foal ch Cranford Flash Harry , res Padbrook Marcus Longstocking.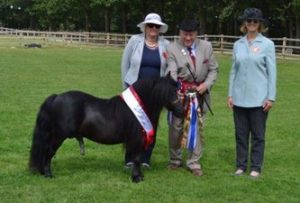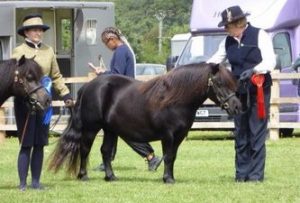 Organiser Jill Jones' report, 
Well , not certain where to start with TDSPG show yesterday , what a lovely day, we were so lucky with the weather, Thank you to everyone who made this such a brilliant show.
The venue was super, thank you so much Belinda and Gordon for letting us hold our show at your beautiful home, I know an awful lot of hard work goes into the preparation of the grounds and we are really grateful, it is perfect .
Thank you to our two judges Mrs Marion Mathews of Zennor Stud and Mrs Fiona Hammond of Tawna Stud who travelled all the way from Cornwall to judge for us.
Thank you once again to Katie Good who judges our Fun Ring so expertly, the children were very happy and enjoying themselves.
Thank you to our stewards who all did a brilliant job, Stephanie who saved the day! And my two granddaughters Lauren and Imahlia, brilliant job girls .
Thank you Carrie for just helping everywhere!
Thank you Stuart for running around for us and the whole team of helpers who pitched in when they could .
Finally thank you to all our competitors members and non members for supporting our show, we were amazed at the entries and people coming from far and wide.
Fantastic day!
We try to keep our shows friendly and fun and not too serious which seems to be working! We have had so many comments and messages saying everyone enjoyed the day.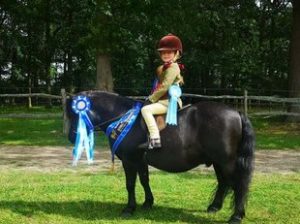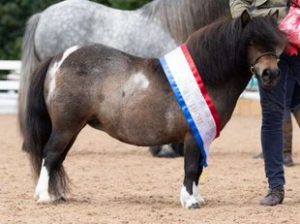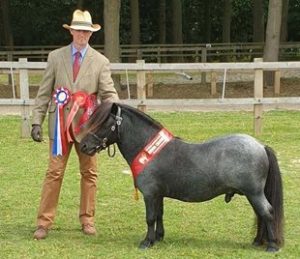 We are saddened to learn of the recent passing of Mrs Margaret Hunter of the Clivocast Stud in Unst, Shetland. A stalwart of the Shetland Pony world and author of the fascinating book "Shetland Ponies from Shetland". Sincere condolences to her family.
NPS 2019 what a great week for Louise and Amber Ripper.
Cranford Vision getting in to two evening performances with Immy in the young handler and lead rein. He then competed in the Hoys shetland to get 4th thank you Sydney Head for riding him so well.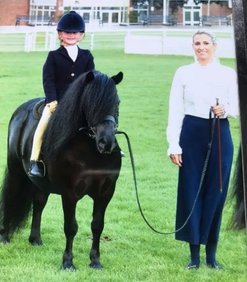 Kerloch Pilgrim 1st Marketplace M + M small breed finals and then Reserve Supreme Overall Champion at NPS summer Championship show! His first ever stay away show and what an absolute gentleman he has been, tried his best to please at all times and hasn't put a foot wrong…….I'm running out of things to say about this boy……apart from I LOVE HIM!!!  SIAN GREENE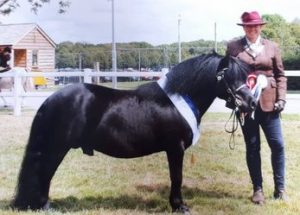 ABBEYGREEN Shetlands, attended Turriff Show today on route from Perth Show and so glad we made the journey. Thanks to all in the north who made us very welcome and to Wells Shetlands for accommodation.
Parlington Viola concluded her 2019 showing season 1st yield mare in a class of 15 and Reserve Champion. 
Gue Tarah 1st yearling in a class of 11 both owned by Lynda Cochrane, Abbeygreen shetlands.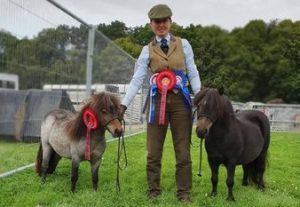 In the pony showing world, this is about as good as it gets.
NPS Summer Championships
Sharptor Kittiwake winning the NPS Gold medal being champion of the silver medal final. She also went on to be Shetland champion as well.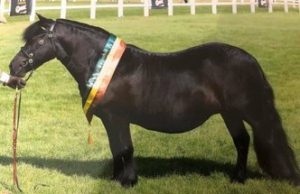 NPS champs Malvern. Emma Holder was feeling unwell so Gayle Holder stepped in and led Freddie on Sharptor Bellisima winning a very strong m and m LR tiny tots, then to top it off Bellisima was reserve mini supreme. Just love how much Freddie is enjoying riding, thank you Team Holder. L.F-B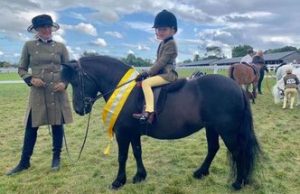 Rebecca Vinnacombe and her 3 year old daughter, Ophelia riding Lovaton Betina winning the evening performance concours at NPS Malvern.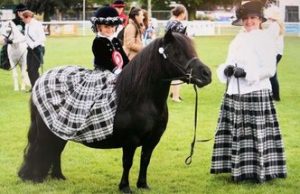 First show for me (Sawmill Stud) in July at the SWWSPG Summer Show.
Kerswell Malibu did me proud winning 1st in the piebald / skewbald class
1st in the Miniature Shetland Stallion class and Reserve
Miniature Championship.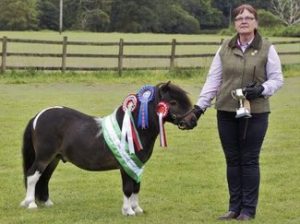 It is with tremendous excitement and joy that we announce the arrival of the exceptional black standard stallion Strauss of Auckhorn. Strauss needs little introduction having been Supreme Champion at the SPSBS Breed Show in 2017 and Reserve Supreme Champion at the Royal Highland on two occasions. He also received a Gold Award at the Shetland Pony Evaluation Scheme in 2015 and has sired Gold Award winning… stock.
After many years of searching for just the right black stallion for our stud our delight is immeasurable that it has finally come to pass! He is just the kindest fella and already settling in nicely, enjoying his belly scratches! However, not sure he understands our weird Southern accents quite yet.
Many very kind thanks to Steve Rendall and Ian Spence as well as Susan Dunnet, his breeder. Also a huge, heartfelt thanks to our wonderful friends who pulled out so many stops to help us along in our journey. We look very much forward to our future foals by this legendary stallion!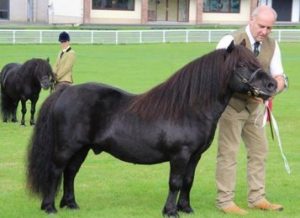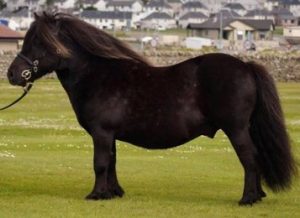 Oswestry Show. 3rd August. Judge Mrs Davenport
Champion Pankymoor Ember – Miss N Andersen Smith
Reserve Champion Carrickfergus Misty Surprise – Mr & Mrs W Handley
Junior Champion Ladbury Pretender – Miss F Morkill and Mr N Buffery
Reserve Junior Champion Harwel Lancelot – Mr & Mrs W Handley
Best Miniature Seva Handalina – Miss L Millichap
Best Gelding Gwyddelfynydd Galahad – Miss F Morkill
Best Foal Eckford Echo at Dawn – Miss N Andersen Smith
Lara Joslin, 'overwhelmed' at winning Supreme championship with 'Toby' and son Harry, at the Gower Show, a feat never before achieved by a Shetland pony.
Catchpool Toby is 6 years and was gelded, to mother Anna's horror!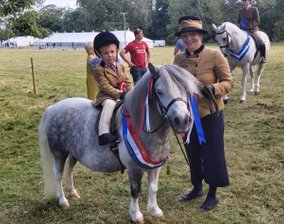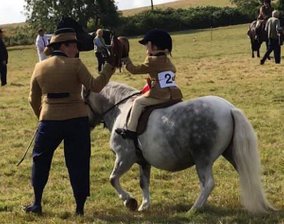 Fab day at Dumfries show. We only took our yearlings but really pleased with result. Dryfesdale Diamond Surprise, 1st and jnr Champion on her first day out. Dryfesdale Dekarina 2nd. Well done to Paul Harkness with Dryfesdale Drem, 1st in 2/3 year old class.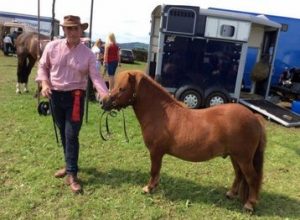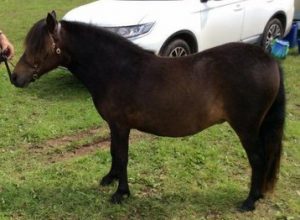 We have just arrived back from a wonderful 12 days at the Shetland Isles, we thoroughly enjoyed everything that was laid on for us as visitors. It was interesting to see the Evaluations taking place followed by four days of stud visits with the finale being the Breed Show. It was a very enjoyable visit, everyone was extremely friendly, welcoming and the hospitality was second to non. It was clear to see a great deal of planning and preparation had taken place, everyone worked extremely hard to ensure that we all had an unforgettable experience and stay on Shetland. We would like to thank all the studs and organisers for making sure that it is so memorable.  It was great to meet and make new friends from various Countries it was a truly international event and even the weather supported the event!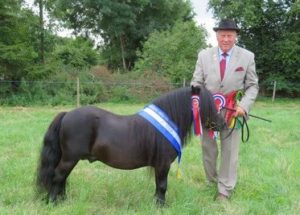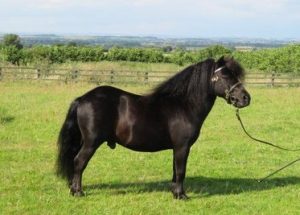 Since arriving back after a two week break for ourselves and a four week mid-season break out to grass for the ponies, this week we attended the New Forest Show and Honiton show, our results being extremely satisfying after our break: F+C.H
New Forest & Hampshire County Show
Eiger Tornado – 1st in 2 & 3 year old colt, filly, gelding class and Junior Champion
Eiger Oliver –  1st in Miniature Stallion class and Overall Miniature ring Champion 
Honiton Agricultural Show
Eiger Tornado –  1st in 2 & 3 year old colt, filly, gelding class, Junior Champion and Reserve Overall Miniature ring Champion
Eiger Oliver –  1st in Miniature Stallion class, Senior Champion, Overall Miniature ring Champion, Supreme Champion and to finish the day off took the Reserve Supreme Mountain & Moorland In-hand Championship.
Lovely day at Honiton show with beautiful sunshine,and catching up with friends. "WESTBRIDGEPARK MALIBU". 1ST 2-3YEARS, Junior Champion.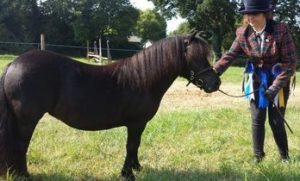 Saturday saw the 37th Annual Shetland Pony Stud-Book Society National Breed Show take place at Clickimin, Lerwick.  The glorious weather helped to make the show a momentous event.  The show was officially opened by Mrs Helen Thomson, Shetland Pony stalwart, who was piped onto the show field in a Shetland Pony drawn carriage before dismounting to welcome all and get the proceedings under way.  There were 408 entries, consisting of 301 ponies, across the 5 rings.  Exhibitors attended from the length and breadth of Shetland and further afield including Orkney, Scotland and England, the farthest travelling from Gloucestershire.  There were a large number of spectators on show day creating a very friendly and enjoyable atmosphere.  Hundreds of people had travelled to Shetland from countries outside the UK just to see the pony including people from Australia, Canada, France, Germany, Holland, Denmark, Sweden, Norway, Austria, Switzerland and Finland to name just a few.  The many nationalities contributed to the international flavour of the show with the 3 international judges who officiated alongside the 4 judges from the UK.  Mr Stein Langorgen from Norway officiated in the In Hand Standard Black Pony Ring, M Ludovic Durand from France officiated in the In Hand Standard Coloured Pony Ring, Mrs Johanna Vaurio officiated in the In Hand Small Pony Ring, Mrs Pat Renwick, England and Mrs Anna Stevens and Mrs Dorothy Griffiths, Wales, shared the judging of the Ridden Ring classes and the Driven Ring was judged by Miss Alexandra Lanni from Scotland.  There was strong competition across most of the classes with a very good standard of ponies forward.  The judges were very pleased with the hard but enjoyable job they had to do.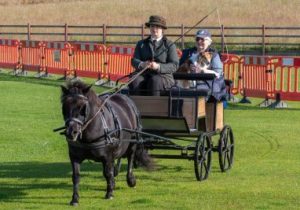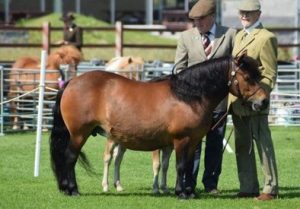 At the culmination of ring judging Hools Janet from Hools Stud in Orkney took Black Ring Champion with Hollydell Hindsight from Hollydell stud in Nesting taking Reserve Champion.  The Coloured Ring saw 3 year old chestnut colt Merkisayre Julian from Merkisayre Stud in Burra take the Champion honours with the Bay Broodmare Birchmoor Gizelle from the Barugh family in East Yorkshire taking Reserve Champion.  The Small Pony Ring saw fierce competition with the ultimate Champion prize going to Beechnut of Berry owned by Bergli Stud, Walls with Amanda Slater's homebred Breckenlea Solomon, from Tresta, taking reserve honours.  The ridden ring saw 8 year old Heidi Dickie, from Culllivoe, taking the Ring Championship on her Lead Rein Pony, Klingrahoull Gypsy who is owned by her mother Ingrid.  Arianne Fraser from Whalsay took Reserve Ring Champion with the black Stallion Hools Rising High who is bred and owned by Hools Stud in Orkney.  The Hools' Stud winning streak continued in the Driven ring with Toots Cromarty taking Champion driving Hools Voyager with Hannah budge form Bigton taking reserve honours with the veteran HRE Aladdin.
The top 5 ponies then went forward for the judging of the Supreme Championship, which was judged by the 5 ring judges.  There was much deliberation as the judges scrutinised the ponies to choose the best.  Eventual consensus was reached and the results saw Beechnut of Berry, from Bergli Stud, taking the Reserve Supreme Sash and Merkisayre Julian, from Merkisayre Stud, taking the top honours, quite an achievement as it was also Merkisayre Stud who took Supreme Champion at the first ever Breed show in Shetland in 2009!  A real dream come true for George Tait and his family.  Huge congratulations to all the competitors.
Shetland is a unique place and we are incredibly lucky to be the custodian of this very special pony who is loved worldwide and drew the hundreds of people from all corners of the globe to Shetland for the 10 days of celebration.  Thanks to all the exhibitors and visitors who came.  None of the events would have been possible without the thousands of volunteer hours that have been put in and also the very generous support of our sponsors, in particular the main show sponsor Garriock Brothers Ltd, ring sponsors Furunas Stuteri, Sweden, Sumburgh Hotel, South Park Fairy Stud, Marion & Brian Morris, Jersey and MacLeod Creek Shetlands, British Colombia, Canada, Northlink Ferries, Glansin Glass, Shetland Showing Tack, Native Pony Bridles, Promote Shetland, Shetland Reel Gin and our select sale sponsor S J Rendall Rendering Contractors.  Thanks also to Austin Taylor and Kevin Jones for providing the fantastic photography services on a very long and hot day.   Heartfelt thanks also must go to the incredible people who kept the show running so smoothly on show day, Kerry Eunson & Matt Fraser in the secretary's office and all the stewards and runners Lee Moulder, Abigail Robertson, Leighton Anderson, Melody Goodlad, Nicky Beck, Susan Goodlad, Ailidh Risk, Anya Risk, Jade Stevenson, Gemma Irvine, Katrena Irvine, Charles Gear, Margaret Leslie and not forgetting Marion Anderson & Helen Dickson.  The Pony Breeders of Shetland Association could not have done it without you. Shetland you have done yourselves proud.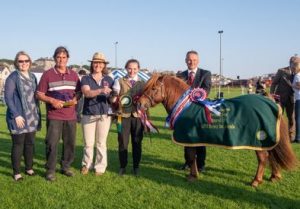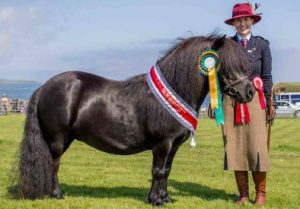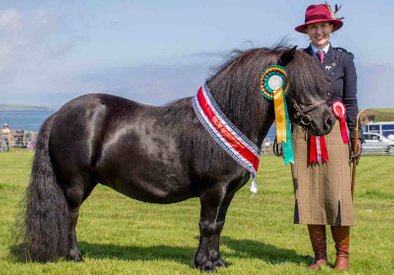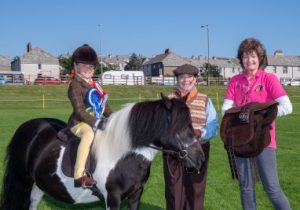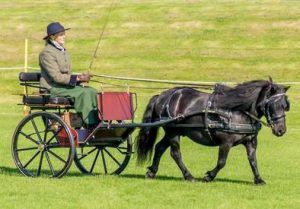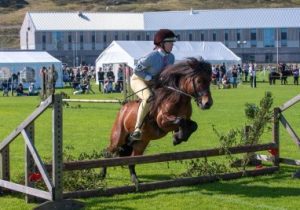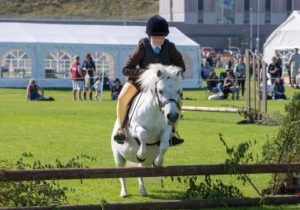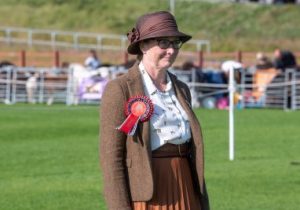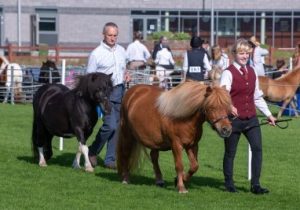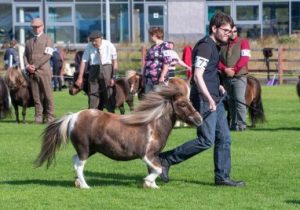 Parlington Quentin returns to Shetland and wins again!
We decided to bring 16 yr old Quentin out of retirement to take him up to the Breed Show for the veteran class and were absolutely delighted when he came third and highest placed miniature in a very strong class of fabulous old ponies. What a sight to see them all flying round the big driving ring and all looking so well. Meanwhile his daughter Anneliese was heading the junior section of the yeld mare class which had been split with such large entries and she ended up a creditable 4th (out of 35) when the winners from each section came together with Parlington Viola (Lynda Cochrane) standing next to her in 5th.  Quentin then went into the miniature stallion class and unbelievably won repeating what he had done 10 years earlier when he was miniature champion. His 2 yr old son Eros was 2nd, his granddaughter Esmeralda won the 2 yr old filly class, granddaughter Dorothy was third in the 3 yr old filly class and yearlings Fabian and Faith (owned and shown by Cora Ramsey) were both 5th so delighted that all 7 ponies that we took were in the ribbons and so proud of the old boy who ended up reserve senior ring champion to the beautiful Beechnut of Berry (Bergli Stud) who went on to be reserve overall champion of show.
Once again the Islanders pulled out all the stops to make sure that it was a truly memorable experience and we can't thank them enough for their warm welcome, wonderful hospitality and hard work and for arranging the best weather I've ever seen up there, perfect for camping.  It is such a special thing for us to return to the home of the Shetland pony, so great to catch up with friends both Islanders and from the mainland and to meet new ones as well. A trip that provided memories that we will treasure forever. Di & Wilf (Parlington Stud)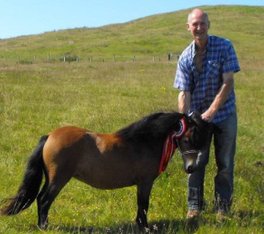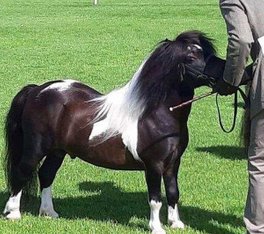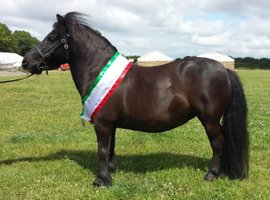 Lovely day at Somerset Native & Equi show.
"KERLOCH VERITY" CHAMPION & SUPREME CHAMPION.
"WESTBRIDGEPARK APPLE CRUMBLE" RESERVE CHAMPION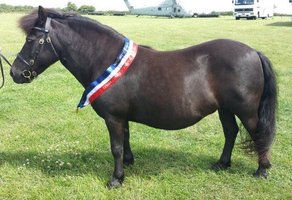 BRIAR SNOWMAN gets the HOYS f/ridden ticket with Jockey Lilly Richardson at TSR Summer Show,
Onley Sunday 14th July. (Lilly looks delighted!)
He'd already qualified for HOYS Lead Rein at Royal Highland then went mini m&m champion before going res. supreme of show in the Queen's Cup.
Rider 3 year old Penny Richardson. Led by Lucy Richardson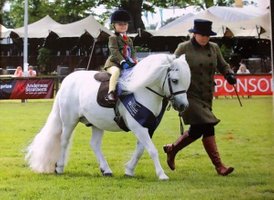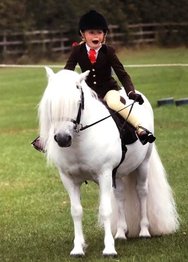 Shetland Performance Show 2019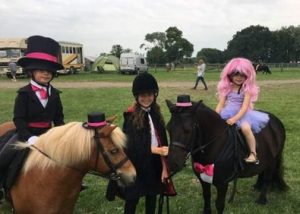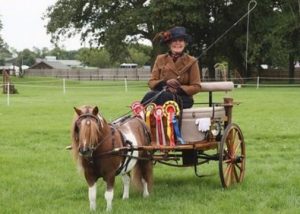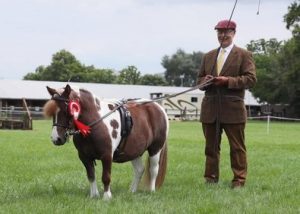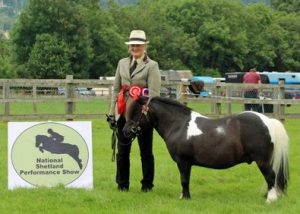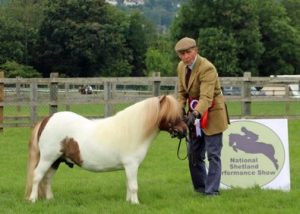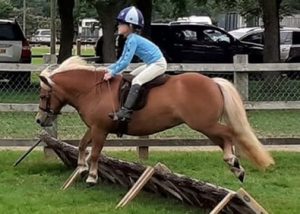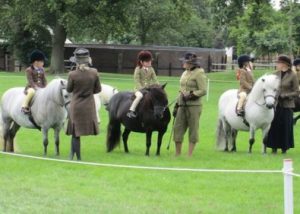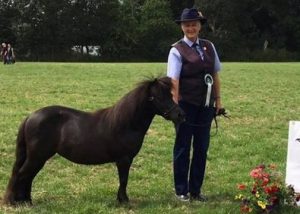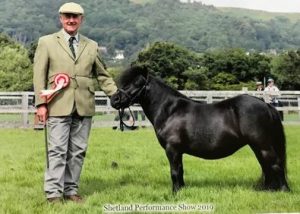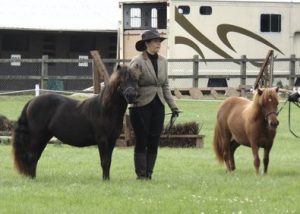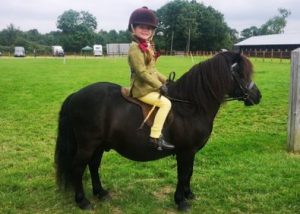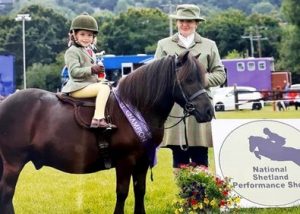 Great Yorkshire Show 2019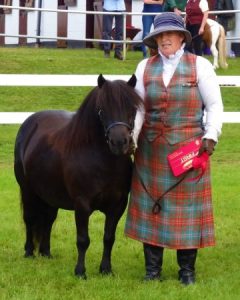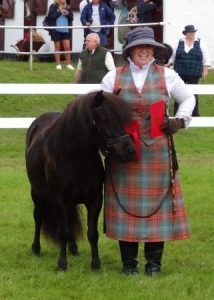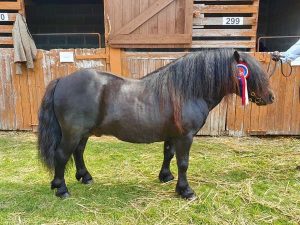 Beltoy Sari and I came out of retirement for some inhand showing. I forgot how much fun she is to show (and how excited she finds it ). Ended up Res M&M Champion. Arnie coming 2nd in a large class of Younstock and some very pleasing remarks from the judge. Thanks to NIWP&CS show for lovely day. Z. Bell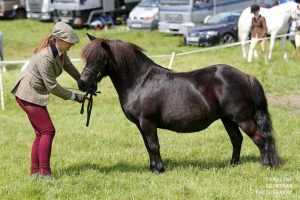 Doune and Dunblane Show. Transy Stelhoneybee 1st yearling
Transy Rosscallin 1st colt/stallion and Cathkin of Transy Overall Champion Shetland.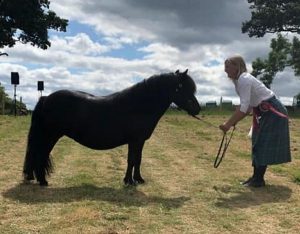 The delightful Sharptor Butterfly, ridden by Molly Hendy and Handled by Anneli Hendy, bred by Julian Walters taking supreme of show at Trowbridge and District Charity Show.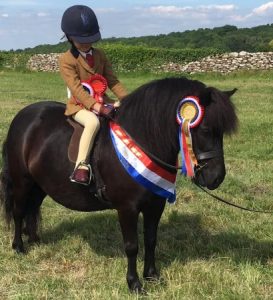 Kent county today with Buxted Exclusive, 1st 4yrs and over, Standard Champion, Overall Supreme Shetland Champion, pulled out top 6 in the Mountain and Moorland Championship and then off to the main arena in the cuddy.
Buxted Emma-Lee 2 year old filly, owned by Rita Bundock, Res Champion to Exclusive. A good day for Buxted ponies.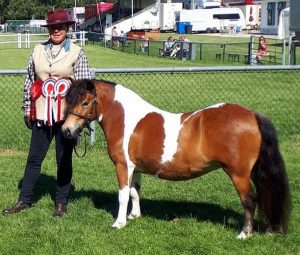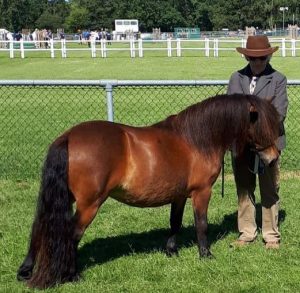 Parlington Viola,
2nd Yeld Mare & Reserve Female Miniature Shetland at the Royal Highland Show 2019 owned by Lynda Cochrane Abbeygreen Shetlands.

 Photos courtesy of Sinclair photography.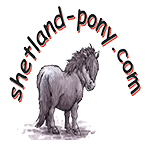 Eiger Shetlands competed at two shows held on the Royal Cornwall show ground on Sunday 30th June, one being the South West Shetland Pony Group and the other organised by the NPA of Cornwall.
Eiger Ursala;
South West Shetland Pony Group:
1st in Miniature Yearling Class
NPA of Cornwall:
1st in Miniature Yearling class and Reserve Overall Junior Champion
Eiger Oliver;
South West Shetland Pony Group:
1st in Miniature Stallion class, Senior Miniature Champion, Overall Miniature ring Champion and then took the Supreme Championship.
NPA of Cornwall: 1st in 4 years and over mares, stallion or gelding class, took the Senior Championship, became the Overall Miniature ring Champion and then the Supreme Championship, not stopping there he then took Reserve Champion in the NPA All Breeds Adult Championship.
Thanks to the organisers of both the South West Shetland Pony Group and the NPA of Cornwall for organising two fantastic shows which were very well attended, had brilliant entries and we were blessed with wonderful showing weather too. FH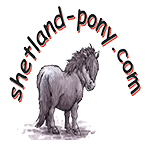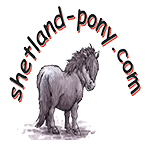 HOPE Summer Festival at Weston Lawns.
Snelsmore Ulysses won his Two/Three-year-old class and Reserve Miniature Shetland Champion. Snelsmore Sophia was third in the Mare/Stallion class, so pleased with her, she is maturing into a beautiful pony and definitely becoming a favorite of mine. While later her older full sister Snelsmore Quaffle was Open Shetland Coloured Champion her first time out since having a foal.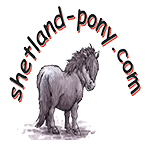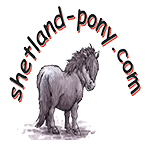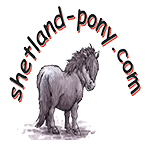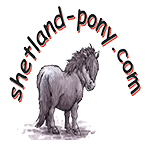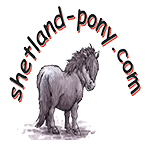 NPA Cornwall Breed Show for Zennor Hawaiian Princess, 1st in 2 & 3 year old Shetlands, over all Shetland Junior Champion, Standard Champion and res over all Shetland Champion.
Then went on to take the NPA All Breeds Youngstock CHAMPIONSHIP.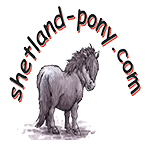 Llanrwst Rural Show 29th June 2019
Champion Robins Brae Ronaldo – Emma Elliott
Reserve Champion Isle of Mona Sarah – Jones and Young
Junior Champion Isle of Mona Freyer – Jones and Young
Junior Reserve Champion Isle of Mona Sherry – Jones and Young
Best Gelding Shelcroft Charlie – Tracy Williams
Best Foal Isle of Mona Patrol – Jones and Young
Best Miniature Camlan Rebecca – Arthur Jones
West Fife Show. 1st June. Charlotte of Transy
Champion Shetland and Supreme in hand Champion.
First outing for her foal Culloden of Transy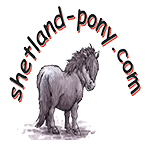 Ridiculous day at Nps area 20 show!…Kerloch Pilgrim 1st Shetland 4yrs and Over, Senior Shetland Champion, Standard Shetland Champion, Supreme Shetland Champion, 1st Mountain and Moorland 4yrs and Over, Reserve Supreme Overall Mountain and Moorland Champion and then Reserve Reserve Supreme Overall In Hand Champion!! This beautiful boy truly deserves it, he is an absolute sweetheart and a pleasure to be around. Sian Greene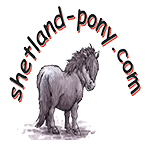 Lucie Dale had a creditable 2nd in Lead rein riding Cr. Fantasia, where she was the only Shetland, so, like it is sometimes, very tough. However there were 6 fun classes for dogs after lunch. There was a class 'dog judge would most like to take home'. She came 4th in that, so next class she said to the judge, 'would you like to take my dog home'? Cracked up. x
In the 'waggiest tail class' she said to the judge, 'if i leave Queenie with you and i go over there and she REALLY wags her tail, will I get the rosette'? Priceless x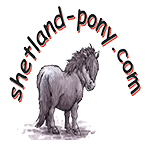 NPS show Ardingly today, Sun. 23rd June. Fairy Constance and Fairy Gift did well. Gift shown by William De La Warr and Constance by Karen Jackson, new to helping with my ponies and very successful.
Fairy Constance shown for Countess De La Warr won the stallion/mare class and went on to be Champion mini pony, reserve overall and reserve supreme champion. 
(She is Fairy Camilla's great niece) 
Fairy Gift Mini junior champion and class winner. A.DLW.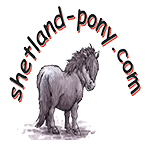 Royal Highland Show 2020
Wells Reliance Male and Overall Champion. (H Sleigh)
Reserve, Harviestoun Sardinia (Lucy Poett)
Wells Prelude Res Male and Junior champion, Best bred by Exhibitor and best bred in Scotland (H Sleigh)
Miniature Champion, Millday Morse (Matthew Davidson)
Reserve, Robin's Brae Tilly (Glen Smith)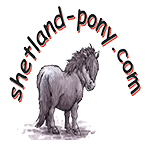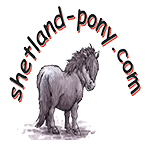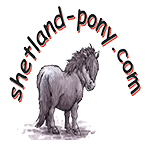 Ronelle STUD Saintfield Show, N.Ireland
didn't put this lot off..between them they managed 2 champions(Glenough Persuasion), a reserve champion(Robin's Brae Thor) and a reserve supreme of show(Glenlough Persuasion) ..Weather was horrendous, but the craic was mighty and almost everyone was towed both in and out….
Cumberland County Show
Lorna Jamieson's 2yr old home bred filly Lignite Island Breeze,  won -Junior Miniature Champion, Miniature Champion, Overall Shetland Champion and The Cumberland Agricultural Society Trophy – presented by the Clydesdale Bank of Scotland  – for the Overall In-hand Light Horse Champion  of the Show.
Shetland Judge was Mr. K.L Adam and the Supreme Horse  Judge was Mr. M Bassitt.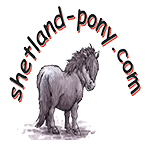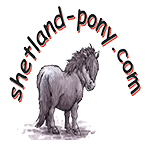 Three Counties
Miniature Champion – Eiger Oliver
Reserve – Snelsmore Uno
Standard Champion – Sharptor Kitti Hawk
Reserve – Sharptor Theodore
Firle Ricardo,  qualifying for HOYS
Sharptor Silver Skyline winning the Colne lead rein HOYs qualifier and then going on to take the m/m mini championship in a incredibly strong class. Sky was led by Brynony and ridden by Kobi Hunter -Watts.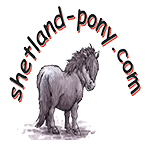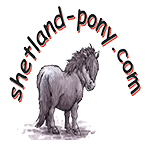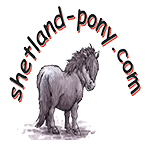 Royal Cornwall show on Friday 7th June, the weather was absolutely appalling, the forecast was correct!
We had a fantastic day regardless, our yearling Eiger Ursala won her class, going on to be  res jun ch and Eiger Oliver won his miniature stallion class, then going head to head with the winner of the standard stallion class he became Overall Champion Shetland stallion, later he took the Overall Miniature ring Championship and then during a storm and the biggest down poor of the day was called out in the final line up of six in the Cuddy Championship. Well done to everyone who endured the awful weather, put a brave face on it and carried on.   F+C Hodder
South of England
Kerloch Pilgrim, 1st in a strong line up of standard stallions, mares and geldings, Standard champion, and then Overall Supreme Shetland! And then to top it off he stood Reserve Reserve Overall Mountain and Moorland Champion. Owned by Mr & Mrs Jones and shown by Sian Greene.
Snelsmore Ulysses, two year colt Miniature Champion and Reserve Supreme at the South of England show.
Bea Shepherd pilots Carmillo Magician around the workers course
at South of England show, 1st and res. champion and collects
another ticket for HOYS. Has there EVER been a better or more
consistent jumping Shetland?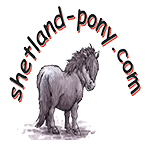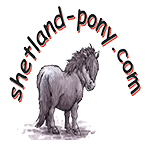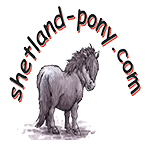 The Southern Show Society
Louise Ripper's Cranford Vision 4th child handler & 1st & reserve champion Lead rein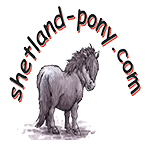 Aberystwyth and Ceredigion County Show 8th June 2019
Judge Mrs L Joslin
Champion Empress of Crafton – Mrs D.B Checkley
Reserve Champion Ladbury Etta – Miss F Morkill & Mr N Buffery
Junior Champion Ladbury Etta – Miss F Morkill & Mr N Buffery
Reserve Junior Champion Fronllan Brenin Arthur – Mrs H Thomas
Best Miniature Trefys Violet – Elaine Fitzhugh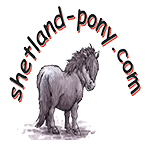 Severn Valley WPCA Summer Show 1st June 2019
Judge Mrs L Joslin
Standard Champion Champlers Mimosa – Jane Smith
Standard Reserve Champion Breward Ellie – Nina Andersen Smith
Standard Junior Champion Ladbury Pretender – Miss F Morkill & Mr N Buffery
Standard Reserve Junior      ?????         Unknown        ??????
Miniature Champion Seva Pom Pom – Mr Handley
Miniature Reserve Champion Robin's Brae Tilly – Glenn Smith
Miniature Junior Champion Harwel Lancelot – C Davies
Miniature Junior Reserve Champion Treflys Violet – Elaine Fitzhugh