Shetland Pony / Ponies For Sale
Place an Advert For
Tack / Horse Boxes / Equipment / Shetland Ponies
For Sale / Wanted / For Lease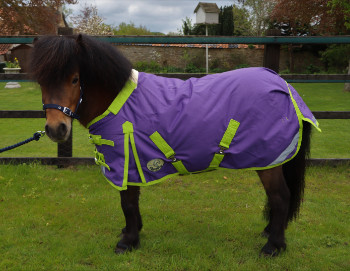 Ruggles Horse Rugs has a huge range of Shetland rugs both for minis and standard sizes and for all seasons. Quick delivery. www.ruggles-horse-rugs.co.uk
Sire; Tawna Champagne Charlie (palomino) PGS Goodworth Bertie
Dam; Tawna Dolly Dimple (dark bay) MGS Tawna Rubus
DOB; 29/05/2022
Beautiful, show quality filly unexpectedly available due to being let down by original purchaser.
Dilute black (genetically tested).
To mature around 31″.
Possibility of shared transport, depending on location, with another foal in December.
More photos and videos available via whatsapp.
Sire; Liscombepark King Rollo – AW0415
Dam; Halstock Snow ZaZa – AQ0576
DOB; 08/05/2021
Chestnut Yearling
Sire; Pampas Cracker
Dam; Longmeadow Saphire
DOB; 09/05/2022
Beautiful filly foal, well marked, good sturdy little pony, easily show quality.
Wormed and has had feet trimmed twice, very sweet nature.
3yr old Registered Standard Stallion
Sire; Eynhallow Star
Dam; Bayview Taransay
DOB; 29/05/2019
3yr old registered standard stallion. Not been used yet. Been shown since a foal, no lumps or bumps, blemish free. Well handled, loads and travels, good with the farrier. Loves fuss, great to lead and good to bath. Started long reining him in a harness and proving to be a quick learner.
Sire; Pinglewood Pegasus
Dam; Slades Lady in Red
DOB; 07/06/2018
Norlinton Crackerjack is a homebred, 4 year old gelding, he is around 34 inches.
Had lots of experience on the floor, showing and handling, up to date with worming, teeth and feet, happy in, out and travelling, ready to move on, we think he will make a cracking driving pony. SPBSS REG.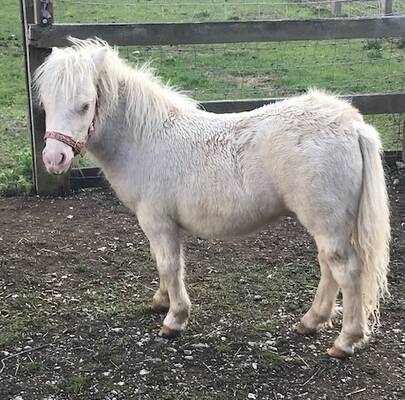 Liscombepark  Prince George
Sire; LiscombePark Mr. Pepe – AU2430
Dam; Cotmullion Mimosa – BA0449
DOB; 20/04/2022
Sire; Kerswell Sinbad – AB04525 – Blue Roan
Dam; Halstock Snow Za Za – AQ0576/M08 – Palamino
DOB; 09/05/2020
Can be put for VVE for Stallion after Christmas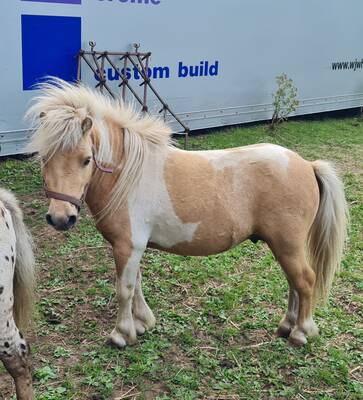 Stunning 32″ Miniature Shetland licensed stallion
Sire; Hermits Blue Eyed Boy
Dam; Hermits Angel
DOB; 13/06/2016
Hermits Golden Eye has produced some stunning foals for me, and I'm gutted to have to write this ad. But sadly he's getting a bit big for his boots with my other horses.
 He thinks that everything that walks through the gate is for him, and so will chase my other boys around the field. He ideally needs a home where he can be kept seperate from other entire boys or geldings. Or be allowed to run permanently with his mares.
He will cover naturally or in hand. He really knows his job.
Hes good with farrier, vet, etc. Can be a sod to catch but once you have him is good. He can be fiesty whilst he thinks mares are about or mistaken identity of a small gelding. But being small has its advantages when handling him.
Hes been shown successfully in the past at local level.
I must make you aware that although he's in good health and never had any heath issues, he did loose the sight to one of his eyes in a accident in the field with another pony kicking him earlier this year. This does not effect him what so ever.
I'm looking for the best home for this chap as it really would be a shame to geld him, which would be the only option he has to stay here with me.
Palomino Registered Stallion
Sire; Tothill Snapdragon
Dam; Kellas Coraline
DOB; 01/04/2013
Palomino Registered Shetland Stallion
Not currently licensed
No mares so not used to cover
Owned since foal, change of yard forces sale
Sire; Sharptor Silver Sky Storm
Dam; Tootsweet Black Buttercup
DOB; 15/05/2021
Buster is a very good size standard Shetland colt to make full up he has been a field companion at mine so had minimal handling leads on a headcollar ties up ect and has been stabled he could do with more one to one handling he's super bred by the sharptor stud and would make a great stallion or future performance ridden I am only selling him due to no time and he is to closely related to my mares.
Liscombepark Prince Louis
Sire; Liscombepark King Rollo  AW0415/S11 25/05/2009 – Chestnut
Dam; Liscombepark Martha AS1979/M10 23/05/2006 – Dun Roan
DOB; 30/06/2020
Can be put for VVE for Stallion after Christmas
Sire; Oversland Rascal
Dam; Oversland Spice
DOB; 12/04/2022
Beautiful Miniature Shetland Filly foal ready at weaning in October. She is Dark Bay in colour and will make an adorable pet, companion, show pony or when fully grown will be suitable for breeding. She's had a headcollar on for feet trimming, will be wormed, microchipped, registered and have a passport. Such a pretty little foal
Sire; Lignite Lucky Luke
Dam; Robins Brae Opal
DOB; 04/05/2014
Stunning 32.5" mare
Definite show quality with the most wonderful temperament.
Very very sad sale due to stud dispersal
Sire; Grimpowood Kubla Khan
Dam; Cynog Megan
DOB; 27/05/2018
4 years old filly home bred, superb temperament, friendly come to call and good to handle, SPSBS registered,she's from prize winning ponies, good home essential.
Sire; Carain Dazzler
Dam; Meechlands Henrietta
DOB; April 2022
Beautiful quality Bay and White Miniature colt. Ready at weaning in September. Will be fully handled, wormed eating hard food etc.
We think this colt is stallion/show quality, and should mature at about 32″
Sire; Celtic Robert The Bruce
Dam; Broadmuirs Little Gem
DOB; 09/05/2017
I have owned Hamish since he was 5 months old. He is 41.5", nice stamp of a pony. My intention was to show him and break him to drive. He has been long reined a lot, loves jumping, good with poles, has been walked out alone on long reins, he has had tack on and a driving harness, pulled a chain. I have sat on him in the stable with no saddle. He is quite sharp and likes to be on so will need someone confident and experienced to carry on his education, I feel I have gone as far as I can with him and feel if he stays with me will be wasted. This is a reluctant sale due to lack of time.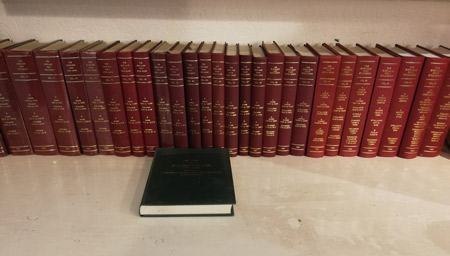 For sale from the Estate of the late Isobel Jean Steven nee Murdoch
Offered for sale is a collection of Stud Books. Can be sold Individually or in Lots.
All Proceeds are to be split between Cancer Research & M.S
Postage to be charged at cost. Below is a list of Volume numbers and quantity available. 
58 x1, 59 x1, 60 x1, 61 x1, 62 x1, 63 x1, 64 x1, 65 x1, 66 x1, 67 x1, 68×1, 69 x1, 70 x1, 71 x2, 72 x1, 73 x2, 74 x1, 75 x1, 76 x1, 77 x1, 78 x1, 79 x1, 80 x1, 81×1, 82 x1, 83 x1, 84 x1, 85 x1, 86 x1, 87 x1, 88 x1, 89 x1, 90 x1, 91 x1, 92 x1, 93 x1, 94 x1, 95 x1, 96 x1, 97 x1, 98 x1
Index of Volumes – Feb 1973
Stud Book Magazine Centenary Edition 1990
shetland-pony.com accepts no responsibility for the content of the adverts above. It is up to the purchaser to fully satisfy themselves with the item they are purchasing. shetland-pony.com recommends that you have any shetland pony that you wish to purchase vetted prior to purchase by a professional veterinary surgeon. shetland-pony.com cannot be held responsible for buyers purchasing shetland ponies for sale or other items that are unsuitable for the capability of the purchaser. Buyers buy at their own risk and must take the appropriate professional advice prior to purchasing.